The Apple designed A9 chip, used in iPhone 6s and iPhone 6s Plus, are manufactured by Samsung and TSMC. The Samsung manufactured A9 chips are smaller in size than the TSMC chips. This is the first time that Apple has opted to use two differently made chips on the iPhone.
Samsung uses a 14-nanometer manufacturing process for their A9 chips, whereas TSMC uses a 16-nanometer process and hence a slightly bigger chip. We're not sure why Apple dual-sourced the A9 chips, but it could be due to sourcing problems and meeting shipping deadlines.
So, what's the difference between the two A9 chips? Well, you probably won't notice any difference in performance between the two chips, but the TSMC made A9 chip has been found to provide better battery life. However, this may vary in real life scenarios.
A Geekbench battery test revealed that the TSMC A9 chip manages up to two hours of extra battery life than Samsungs' A9 chip. The tests were run on two identical iPhone 6s Plus running on iOS 9.0.2 and same settings.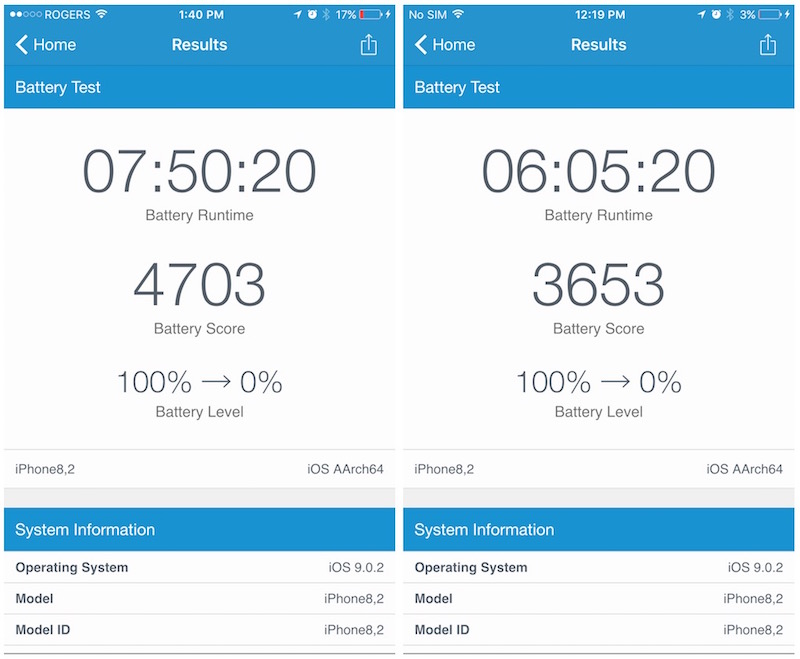 It was also found that the iPhone 6s Plus with the Samsung A9 chip ran hotter than the one with the TSMC chip.
Several YouTubers also performed battery tests between identical iPhone 6s, one running the Samsung A9 chip and the other using the TSMC made chip. Austin Evans set the two devices at similar brightness levels and ran the Geekbench 3 battery tests till both devices went down to 50 percent battery life.
The iPhone 6s with the TSMC A9 chip managed to provide 50 minutes of extra battery life than the Samsung A9 running iPhone. However, in a more real world test, where Evans played an hour long YouTube video on both the devices, there was only a difference of 1 percentage in battery drain.
In another test, YouTuber Jonathan Morrison took 30 minute long TimeLapse videos on two devices running the Samsung and TSMC chip. Both were using the same settings and brightness levels. After completing the test, he found that the iPhone 6s with the TSMC chip had 89 percent battery left, whereas the iPhone 6s with the Samsung chip was at 84 percent. He performed several other tests to find which chip was a better performer and how much battery life was left at the end.
As you can see, there isn't much of a difference in performance between the two processors. Although, the iPhone 6s with the TSMC processor was at 62 percent after all the tests, whereas the iPhone 6s with the Samsung chip was at 55 percent.
In conclusion, it really looks like the iPhone 6s and 6s Plus with the TSMC chip will provide longer battery life, but you will probably not notice any difference in performance. Your daily tasks will normally not require you to push the limits of the battery, while Geekbench tests will do that. Therefore, you may not notice such a large difference in battery life as seen in the tests.
Apple has responded to these reports by issuing an official statement to TechCrunch. Here's what they had to say:
With the Apple-designed A9 chip in your iPhone 6s or iPhone 6s Plus, you are getting the most advanced smartphone chip in the world. Every chip we ship meets Apple's highest standards for providing incredible performance and deliver great battery life, regardless of iPhone 6s capacity, color, or model.

Certain manufactured lab tests which run the processors with a continuous heavy workload until the battery depletes are not representative of real-world usage, since they spend an unrealistic amount of time at the highest CPU performance state. It's a misleading way to measure real-world battery life. Our testing and customer data show the actual battery life of the iPhone 6s and iPhone 6s Plus, even taking into account variable component differences, vary within just 2-3% of each other.
In real-world usage, this 2-3 percent difference will hardly be noticeable. You may, however, see a difference in battery life between Samsung running iPhone 6s and TSMC running iPhone 6s whilst playing games or running other hardware intensive tasks.
Update #1: How to tell which A9 chip is in your iPhone 6s / iPhone 6s Plus.