Yesterday Apple launched the in-car software CarPlay which was previously known a "iOS in the Car." Apple first introduced the feature at WWDC 2013 during the iOS 7 unveiling.
CarPlay will integrate with your iPhone and your car allowing you to quickly and easily do things like SMS, make calls, use maps and listen to music. Apple was pretty quite on the features of CarPlay in its press release but now one of its launch partners, Volvo has given us a glimpse of how CarPlay will function and how it looks.
As you can see in the video above CarPlay features a very similar homescreen interface to that of native iOS with icons for Phone, Music, Maps, Messages, Podcasts and even third-party apps like Spotify (there will be no Pandora support at launch). Users will be able to interact with CarPlay directly or by pushing and holding the voice control button on their car.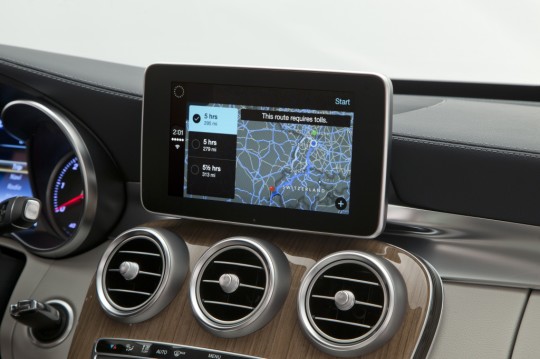 Volvo's press release reveals that CarPlay will work over Wi-Fi network like AirPlay in the near future.
Mercedes also posted pictures of CarPlay in action (shown in this post) which more or less shows us the same thing as the Volvo video. CarPlay will be enabled in an upcoming software updated and many more car manufactures will feature Apple CarPlay in the near future.
It was additionally discovered that CarPlay is powered by BlackBerry's QNX.
Connectivity to smartphones and other mobile devices is a key strength of QNX Software Systems' platform for car infotainment systems, and many automakers and tier one automotive suppliers use our platform to implement smartphone/head-unit integration in their vehicles.

We have a long-standing partnership with Apple to ensure high-quality connectivity with their devices, and this partnership extends to support for Apple CarPlay.
This strategic partnership in automotive is confirmed by the QNX website.
Lastly CarPlay will actually try to predict where you're heading and offer you directions without you doing anything.
CarPlay will predict where a user is most likely headed go by detecting addresses in emails, text messages, contacts and calendars. Likely destinations can then be presented to the user, who can simply select one and then be on their way.
This comes courtesy of a post from AppleInsider which details the context-aware AI of CarPlay.