Apple has just announced CarPlay, which was previously known as iOS in the Car. The feature will be making its way into iOS 7 devices in the form of an update, but only the iPhone 5s, iPhone 5c and iPhone 5 are supported as this feature requires Lightning-enabled devices.
As expected it features all the stereotypical functions like music playback control, maps, answer calls etc. all handled primarily through Siri voice commands. This is something Apple calls the "eyes-free" experience which will not distract the drivers unlike conventional car media systems.
Besides the core iOS functions, CarPlay will also feature integration with third party apps like iHeartRadio and Spotify for your music needs while on the go. There are a variety of car manufactures who have team up to bring CarPlay functionality to the table like BMW, Ford, General Motors, Honda, Hyundai Motor Company, Jaguar Land Rover, Kia Motors, Mitsubishi Motors, Nissan Motor Company, PSA Peugeot Citroën, Subaru, Suzuki and Toyota Motor Corp.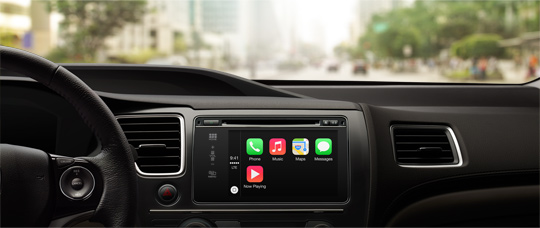 Greg Joswiak, Apple's vice president of iPhone and iOS Product Marketing said "CarPlay has been designed from the ground up to provide drivers with an incredible experience using their iPhone in the car. iPhone users always want their content at their fingertips and CarPlay lets drivers use their iPhone in the car with minimized distraction. We have an amazing lineup of auto partners rolling out CarPlay, and we're thrilled it will make its debut this week in Geneva."
You can check out the entire press release from Apple by clicking here.