Now that the Apple Watch has been delivered to some customers, it's time for the usual drop, scratch and other torture tests. We have some Apple Watch torture tests that were performed by Cnet and Consumer Reports and they are really gruesome.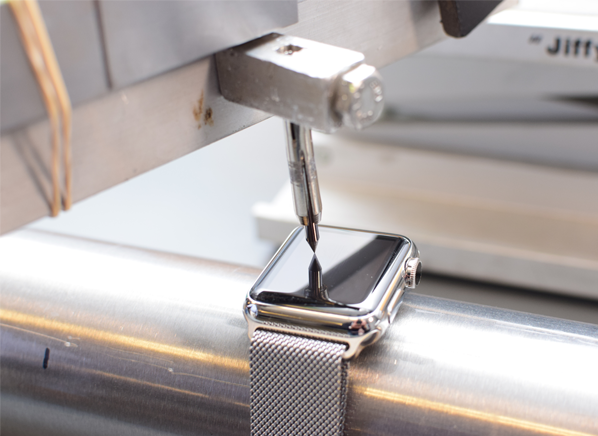 The Apple Watch, as it turns out, is very much scratch proof. Consumer Reports tried to scratch the Sapphire glass on the Apple Watch and Watch Edition, but failed.
They used the Mohs hardness scale to test the Apple Watch screen. The Mohs scale uses various minerals to see how scratch resistant a material is. At the bottom is talc and at the top is, diamond. If a material can be scratched using talc, it's pretty bad.
Apple has used Sapphire glass on the Apple Watch and Watch Edition, whereas the Watch Sport gets a strengthened Ion-X glass. The Sapphire glass scored an impressive 9 on a scale of 1-10, whereas the Ion-X glass managed 7.
Consumer Reports also tested if the Apple Watch was waterproof and found that it can withstand being under 3 feet of water for more than 30 minutes. They also found that the heart rate monitor on the Watch is very accurate.
The Consumer Reports Apple Watch torture test wasn't as bad as the one Cnet performed, but it is still painful to watch. Cnet really went the extra mile when torturing the Apple Watch and they ended up destroying it.
The Watch passed the scratch test, waterproof test, the slimy color degradation test, the drop test and even the hot water test.
But it couldn't survive the pan. Yes, the Apple Watch display will probably crack if you drop something that heavy on it.