Apple CEO Tim Cook visited the company's flagship retail store at Covent Garden in London earlier today. During the visit, while talking with the excited employees, the CEO revealed some new details on the Apple Watch.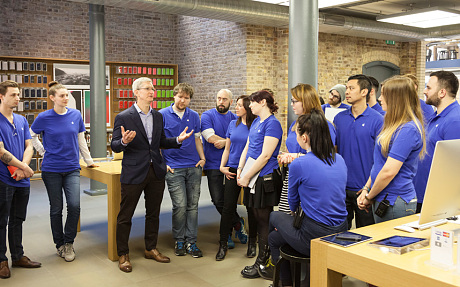 Just yesterday, the iPhone maker sent invites for a special event that will take place on March 9th. In a recent report, Tim Cook was heard saying that he wears his Apple Watch in the shower, hinting at its water resistant feature. On this surprise visit to the Covent Garden Apple Store, he stated that the Watch will feature many revolutionary uses.
According to him, the Watch can be used as an alternative to car keys, will easily filter messages based on priority and help improve a users health. Apple plans on selling the Watch as a fitness device that requires an iPhone to fully function. He stated that it will urge users to get off their chairs and exercise and give rewards in credits for not being lazy.
"I'm now so used to getting all my notifications and all my messages. It's so incredible just to do this. This will be just like the iPhone: people wanted it and bought for a particular reason, perhaps for browsing, but then found out that they loved it for all sorts of other reasons."
Tim Cook also spoke about the battery life, which will easily last a whole day and also praised Jony Ive for his work on the design and also mentioned the magnetic charger. He said that the Watch will charge much faster than the iPhone thanks to the easy to use charger.
Another important feature of the Watch will be Apple Pay. Customers can simply use their Watch to pay for products and services, but they will need to have an iPhone on them.
Apple will reveal more details on the Watch and its pricing on March 9th. It's scheduled to hit shelves in April starting at $349. Will Apple revolutionize the smartwatch market? 
[Source: The Telegraph]