It is no question that today was a big day for Apple! They not only unveiled some great new products, but some great software updates as well. For those of you who didn't know today's Apple iPad event that took place at San Francisco's own Yerba Buena Center for the Arts. At approximately 10am PST the magic started and Tim Cook took the stage to begin the first Apple keynote to take place in 2012.
Just what was announced at todays Apple event? Well, that is what we are about to cover in the following article…
Siri Learns Japanese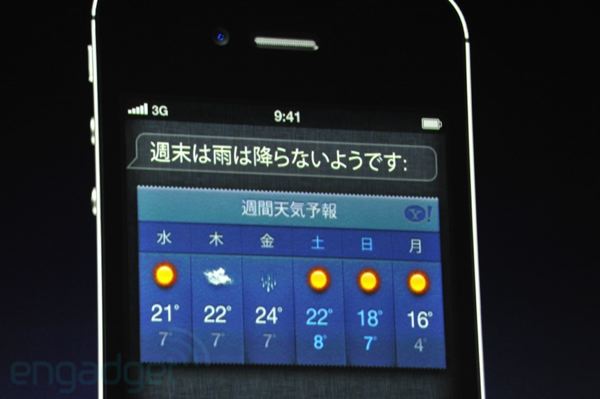 That is right folks! Siri has been busy the last few months learning Japanese and now fully supports the Japanese language in the new iOS 5.1 firmware update.
–> More Information
iOS 5.1 Was Announced 
The all awaited iOS 5.1 firmware update was announced at the March keynote. Its major talked about features was Japanese Siri support, but when it was released to the public only hours later we were able to get our hands on the changelog. Essentially what the iOS 5.1 firmware update contains, besides Japanese Siri support, is bug fixes, battery life improvements, a new camera lockscreen shortcut and a 4G iPhone indicator bar for those on the AT&T network.
–> More Information + Download Links
The 3rd Generation Apple TV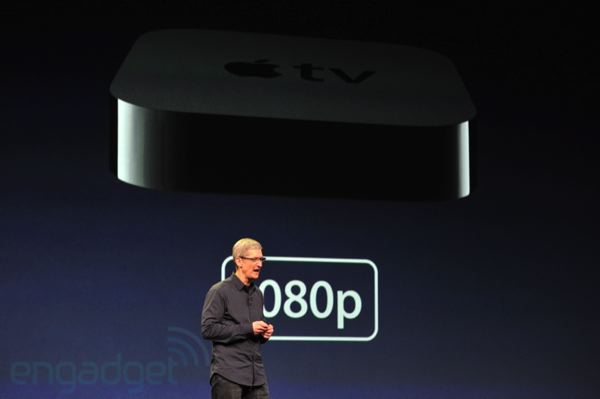 Although today's event was mostly focused around the next generation iPad (what is discussed next), Apple has refreshed their Apple TV. In the 3rd generation Apple TV you can expect 1080p video support and a completely redesign UI (user interface). As the Apple TV now supports 1080p the iTunes Store now serves movies in 1080p, iCloud syncing support comes into play and your Apple TV can recommend movies to you among other things. The 3rd generation Apple TV goes on sale March 16th for a price of $99.
–> More Information 
The New iPad
Apple announced the next generation iPad that is simply called the new iPad. It did not take the title iPad 3, iPad 2S or iPad HD as originally predicted. Instead Apple is choosing to take an unexpected approach and simplify the naming scheme of the iPad to resemble the naming pattern for other Apple products like the iMac. Moving past the name of the next generation iPad, the new iPad includes some major improvements over previous generations. In fact it has 5 major improvements to almost every area of the device:
Besides these 5 new extraordinary features, the new iPad weighs slightly more than previous iPad generations and has a 10 hour battery life (9 hour battery life for 4G LTE). The new iPad is set at a price of $499 16GB, $599 32GB and $699 64GB. The 4G models are set at $629, $729 and $829. Pre-orders start today and the rollout will be in US, Canada, UK, France, Germany, Switzerland, Japan on March 16th.
–> The 16GB iPad 2 Will Stay Priced At $399
–> Watch The New Apple iPad Commercial
Software Updates And New iOS iPhoto Application
Apple was not only busy creating new hardware, but some brand new software as well. They not only added some great new features to already popular iOS software such as GarageBand, iMovie and the iWork Suite, they introduced a brand new iOS application — iPhoto. The new iOS iPhoto application will allow you to better manage your photos and even edit your photos with advanced filters, brushes, effects etc. directly on your Pad.
–> More Information On iMovie, GarageBand And iWork Updates
–> More Information On NEW iOS iPhoto App
More To Look Forward To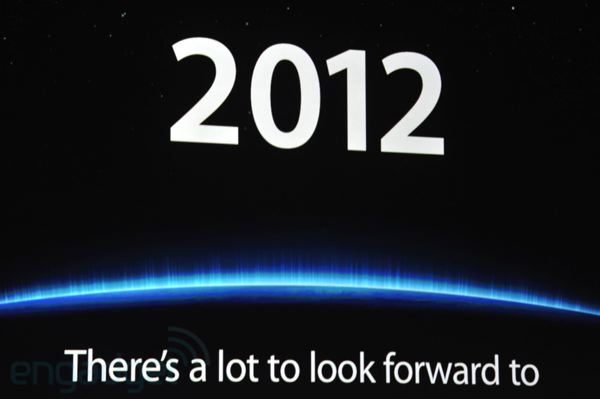 The last slide that was shown in Apple's keynote was "2012 — there's a lot to look forward to". This statement could obviously be taken numerous ways, but I will leave it up to your imagination on what you think Apple is referring to.
Well folks that is about all that was covered in the March 2012 Apple keynote. If you would like to watch the actual keynote for yourself you can click here. If not please don't forget to let us know your thoughts on how Apple ended their keynote in the comments section below…