Team Pangu has finally released a Mac version of their iOS 9 jailbreak tool. When they first released the iOS 9 jailbreak, the tool was only available for Windows users. Now though, Mac users can download the tool and jailbreak their iOS device, running iOS 9.0.2, with ease.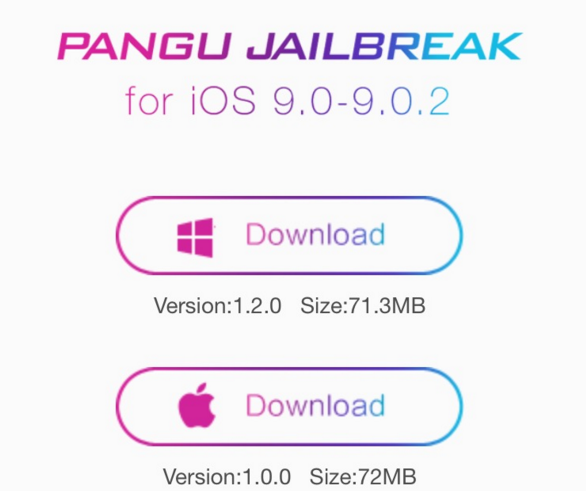 Pangu for iOS 9 – 9.0.2 version 1.0.0 is the first release for Mac OS X. It is available for download now and works exactly like the Windows version. If you've been waiting for a Mac version of the iOS 9 jailbreak tool, then this is it.
The Mac version comes almost 2 weeks after the release of the iOS 9 jailbreak. Those who couldn't wait, could run Windows on their Mac using a Virtual Machine software and jailbreak their device. No need for that anymore.
Download Pangu iOS 9 Jailbreak tool for Mac version 1.0.0.
An update was also released for the Windows version of the iOS 9 jailbreak tool, bringing the version to 1.2.0. The new update brings the following changes to the tool:
Bundled latest Cydia with new Patcyh which fixed failure to open url scheme in MobileSafari
Fixed the bug that "preferences -> Storage&iCloud Usage -> Manage Storage" keeps spinning
Those who haven't jailbroken yet, you can download the Pangu iOS 9 jailbreak tool for Windows version 1.2.0 from our Downloads page. Now follow our easy guide on how to jailbreak iOS 9 – 9.0.2 on Windows.
If you're already jailbroken on iOS 9 – 9.0.2, you can simply install the latest Pangu 9.0.x Untether from Cydia. Just launch Cydia and you should be notified of the update. Install, reboot and you're good.
That's about all the updates that the Pangu team has blessed us with.
Does the latest Pangu 9 1.2.0 for Windows fix the Manage Storage bug after jailbreak? Are you going to jailbreak your iOS device now that a Mac version of the iOS 9 jailbreak tool is available? Let us know in the comments.
Update #1: A complete tutorial on how to jailbreak iOS 9, 9.0.1 or 9.0.2 on your iPhone, iPad or iPod Touch on Mac.