The Pangu team has released a new version of their iOS 9 jailbreak tool. After several users reported that the tool was causing problems, the Pangu team first released a version 1.0.1 and have now pushed a v1.1.0 update.
Version 1.1.0 includes several more fixes to make the jailbreaking process more successful and faster. If you have been trying to jailbreak, but gave up due to issues, then you should try the new update.
The updated iOS 9 jailbreak tool fixes an issue where the jailbreak would fail if there wasn't sufficient disk space on Windows. Here's the full list of the bugs that version 1.1.0 fixes.
Improve the success rate and reliability of jailbreak program for 64bit devices.
Optimize backup process and improve jailbreak speed, and fix an issue that leads to fail to jailbreak due to low disk space in Windows.
Fix a bug that leads to an exit of the jailbreak tool due to abnormal network status.
Add the re-jailbreak function (only for some devices that were upgraded via iTunes but were detected as jailbroken).
Fix a bug that leads to fail to use the instrument function in Xcode.
In case you haven't jailbroken yet, you should download the latest Pangu iOS 9 jailbreak tool for Windows from our Downloads section. Follow our guide on how to jailbreak iOS 9 using the jailbreak tool for Windows.
If you've already jailbroken, then you don't need to rejailbreak using the latest version of the tool. All you have to do, is launch Cydia and you will be notified of the latest Pangu 9.0.x Untether package.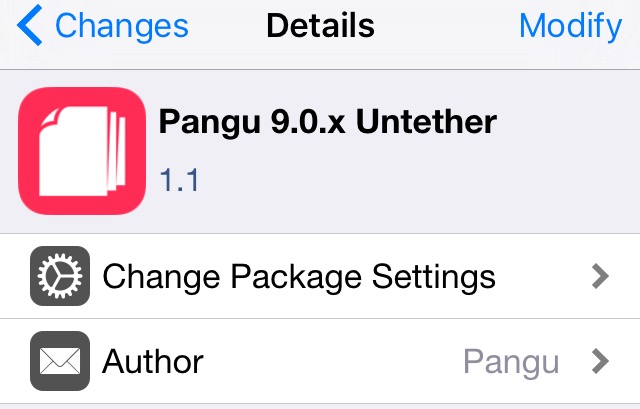 After you install the untether, your device will reboot. Don't worry, this is normal. That's it. You're now on the latest version of the Pangu iOS 9 jailbreak.
Apple released iOS 9.1 last afternoon, which patched the Pangu iOS 9 jailbreak. Therefore, you shouldn't update to iOS 9.1, if you want a jailbreak.
Did you try Pangu iOS 9 jailbreak tool v1.1.0? Has it fixed your problems? Use the comments and let us know.