An anonymous developer known only as 'Dream Jailbreak' claims to have developed a jailbreak for iOS 6.0 and 6.0.1 that will support all devices compatible with the firmware. Supposedly this jailbreak will be released on December 22nd, just over two weeks away. Oddly enough, Dream Jailbreak is not collaborating with any of the well-known Dev Teams in the jailbreak community and claims to be "here to show the world that the source of an exploit or jailbreak can be from outside the norm." …Whatever that means.
As with other supposed jailbreaks, the usual warning signs are back. You have to ask yourself, why would a legitimate unknown developer announce a jailbreak in the first place? If Dream Jailbreak is an unknown who's just trying to prove a point by releasing a jailbreak before the developer community, why make a teaser website with a splashy poster, announce a video for next week, and then wait for December 22nd for the supposed release? The developer could just as easily keep quiet until the jailbreak's ready, and then release it wholesale, proving the point without provoking naysayers like us.
As you might expect, the teaser website's full of pseudo-technical gibberish. One entry in the Dream Jailbreak FAQ reads: "This jailbreak is unique in the sense that it differs a bit from the other jailbreak solutions in the past. There will be a one-click phase of the jailbreak you will have to do, but there is preparation needed to prepare the phone for the jailbreak beforehand."
nitoTV and iH8sn0w, two well known developers who have clashed with fake jailbreak developers in the past, have also responded to Dream Jailbreak's claims.
nitoTV points out that previous 'lone developers' didn't appear out of thin air. "Even when @comex did it he was still talking to people with credibility and working with them to a slight degree. And when geohot did it, [the jailbreak] was much easier to do comparatively. We don't even have a good tethered jailbreak for 6.0 or a good working version of Cydia."
Meanwhile, iH8sn0w warns that jailbreak videos can be faked, especially now with development provisioning profile services like Zeusmos that use loopholes to run third-party apps on non-jailbroken phones (albeit, only apps that don't rely on MobileSubstrate). We'll only know it's real if or when it's released.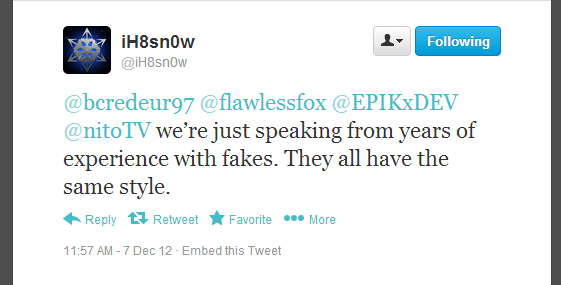 Is the Dream Jailbreak real, or is it just fantasy? We'll find out by the 22nd, but I wouldn't hold my breath.