The good times are coming, when you'll finally be able to jailbreak your iPhone 5, iPad Mini and all the iOS devices running iOS 6 and iOS 6.1. The jailbreak team Evad3rs recently announced the name for the jailbreak, and also released a compatibility list. Now, they've made more progress on the untethered jailbreak.
On their official website. the team has added more details on the progress of the jailbreak. They're calling it Evasi0n and it is likely that it will be released this Sunday. Yesterday, when we wrote about the jailbreak, the GUI for the application was being built. Now, the website says that both the Windows and Mac OS X Evasi0n jailbreak application has been completed.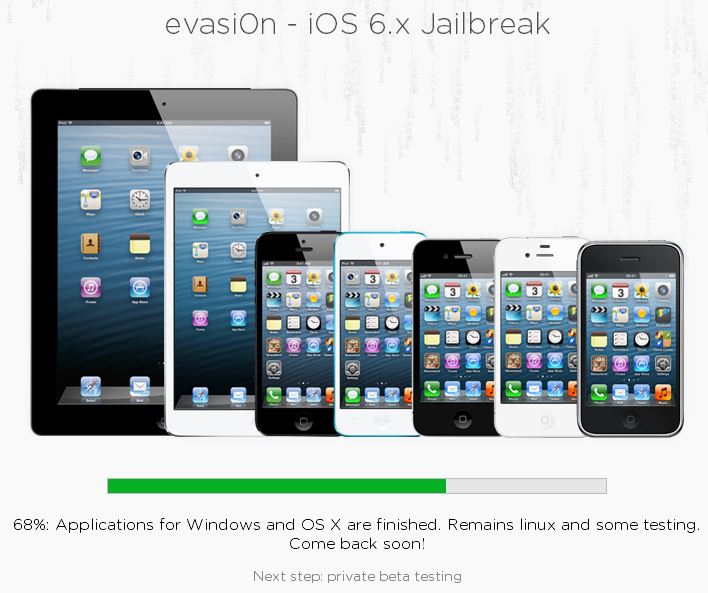 The next step in the development of the jailbreak is to give it to beta testers. These few lucky testers are selected by the Evad3rs team and their information is kept private. Once the private beta testing is completed, the team will then fix all the bugs and release it to the public. There's no word on when the Linux version of the Evasi0n jailbreak tool will be released, but we know for sure that the Windows and Mac OS X versions are ready.
The Evasi0n untethered jailbreak for iOS 6/6.1 is compatible with any iOS device that is capable of running iOS 6 and above. So, don't worry folks, your old-aged iPhone 3GS can also be jailbroken using this tool. It is not long now before you can install those awesome jailbreak tweaks on your iPhone 5, iPad Mini and the iPad 4th-generation. Also, when the jailbreak is released, Cydia tweaks will be fully compatible with the iPhone 5's taller screen.