Today has been full of excitement and to top things off, a NEW Jailbreaking tool has just been released called Ac1dSn0w. This new Jailbreaking tool was developed by the PwnDevTeam, who have managed to push Ac1dSn0w 1.0 into beta status for the Mac OS X Lion operating system. They note that Ac1dSn0w 1.o beta should additionally work on the Mac OS X Snow Leopard operating system, but not on the Windows operating system just yet.
The biggest question I am sure you are wondering with Ac1dSn0w is can it Jailbreak the iPhone 4S, iPad 2 and other iOS Devices untethered, while running the iOS 5.0/5.0.1 firmware. The answer to this question is no it cannot. Ac1dSn0w 1.0 beta is no different than Jailbreaking tools such as RedSn0w. In the fact that it can only Jailbreak iOS Devices running the iOS 5.0/5.0.1 firmware tethered. The only difference between Ac1dSn0w and other Jailbreaking tools is that it adds a few extra features such as exiting recovery mode and displaying useful information about your iPhone, iPod Touch or iPad such your model, baseband version, bootloader version etc.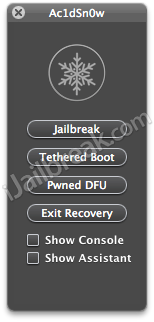 Ac1dSn0w is yet another option when choosing to Jailbreak your iPhone, iPod Touch and iPad. If you are looking to try something new, we recommend at least downloading Ac1dSn0w from the iJailbreak Downloads Section or by clicking the download link below.
Download Ac1dSn0w 1.0 (b2) (Updated to version 1.0b2)
We will have
How To guides
available for Jailbreaking your iPhone, iPod Touch or iPad running iOS 5.0/5.0.1 tethered with Ac1dSn0w 1.0 beta in the near future. Until that time please stay tuned and leave any thoughts or questions in the comments section below…