Today has been full of excitement and to top things off, a NEW Jailbreaking tool has just been released called Ac1dSn0w. This new Jailbreaking tool was developed by the PwnDevTeam, who have managed to push Ac1dSn0w 1.0 into beta status for the Mac OS X Lion operating system. They note that Ac1dSn0w 1.o beta should additionally work on the Mac OS X Snow Leopard operating system, but not on the Windows operating system just yet.
The biggest question I am sure you are wondering with Ac1dSn0w is can it Jailbreak the iPhone 4S, iPad 2 and other iOS Devices untethered, while running the iOS 5.0/5.0.1 firmware. The answer to this question is no it cannot. Ac1dSn0w 1.0 beta is no different than Jailbreaking tools such as RedSn0w. In the fact that it can only Jailbreak iOS Devices running the iOS 5.0/5.0.1 firmware tethered. The only difference between Ac1dSn0w and other Jailbreaking tools is that it adds a few extra features such as exiting recovery mode and displaying useful information about your iPhone, iPod Touch or iPad such your model, baseband version, bootloader version etc.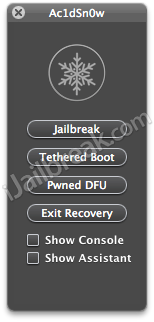 Ac1dSn0w is yet another option when choosing to Jailbreak your iPhone, iPod Touch and iPad. If you are looking to try something new, we recommend at least downloading Ac1dSn0w from the iJailbreak Downloads Section.
We will have How To guides available for Jailbreaking your iPhone, iPod Touch or iPad running iOS 5.0/5.0.1 tethered with Ac1dSn0w 1.0 beta in the near future. Until that time please stay tuned and leave any thoughts or questions in the comments section.
Update #1: How To Jailbreak iOS 5, 5.0.1 On iPhone 4, 3GS Using Ac1dSn0w Beta 1
Update #2: Ac1dSn0w Beta 2 Released – Fixes Legal Issue
The second beta of the PwnDevTeam's jailbreak tool, Ac1dSn0w, was released earlier today. It includes a couple of bug fixes, but the biggest change is that it fixes the legal issue. This legal issue was basically the PwnDevTeam using copyrighted code in order to allow users to boot tethered without the need for an IPSW file. Ac1dSn0w beta 2 also fixes problems with ramdisk as well as removing the boot logo.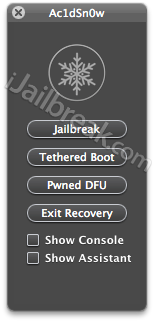 You can download the current version on Ac1dSn0w from the iJailbreak Downloads Section.
Update #3: Ac1dSn0w Will Soon Be Updated With iOS 5.0.1 Untether; Also A5 Untether
Amongst the A5 untethered jailbreak mania, comes another piece of news. If you're a Mac user, then you must have heard of the jailbreak tool Ac1dSn0w, which was only launched last year. When pod2g released the iOS 5.0.1 untethered jailbreak, the first jailbreak tool to package it was RedSn0w, then came the others. However, Ac1dSn0w was never updated with the iOS 5.0.1 untether.
That is going to change, as a member of the Pwn Dev Team recently tweeted that he got in touch with pod2g and that he was giving him the iOS 5 untethered jailbreak exploit. Below is the original tweet:

Thus, Mac users who use Ac1dSn0w to jailbreak their iOS devices will soon get the untethered jailbreak on iOS 5.0.1. According to another tweet, it may also be possible that @imRel0ad, Pwn Dev Team member, is talking about the new A5 untethered jailbreak here.

According to the above tweet, imRel0ad clearly mentions that Ac1dSn0w will also get the A5 untethered jailbreak as soon as pod2g starts distributing it. Now, this all sounds so good, everybody in the jailbreak community is clearly preparing for something big. Pod2g's recent blog post also mentioned that they're all tired and the A5 untethered jailbreak will be released soon, in the coming days. We will update you if we hear more interesting and cheering news!
Thanks to everyone who tipped us!