A tethered Jailbreak is never ideal, however, lately if you want to keep on top of Apple's iOS firmware updates your only option is a tethered Jailbreak.
To make dealing with your tethered Jailbreak a little more bearable the Dev-Team have added a bonus feature into the latest version of RedSn0w (0.9.9b4). This bonus feature is only for Windows users and it is really quite useful. It allows you automatically go to the tethered boot screen when double clicking RedSn0w instead of having to go into the Extras Menu and clicking Just Boot. While this may only save you a few seconds, it is still a nice short cut that I am sure some of you power users will appreciate.
RedSn0w Tethered Booting Tip
Step 1) – The first thing you must do is Download RedSn0w 0.9.9b4 for Windows from the iJailbreak Downloads Section (it will come in a .zip format).
Step 2) – After downloading RedSn0w 0.9.9b4 extract the file to your desktop (right click > Extract to *foldername).
Step 3) – Once RedSn0w has finished being extracted, find the RedSn0w.exe file and create a copy of it (right click > Copy).
Now paste it to the same location (Right Click > Paste).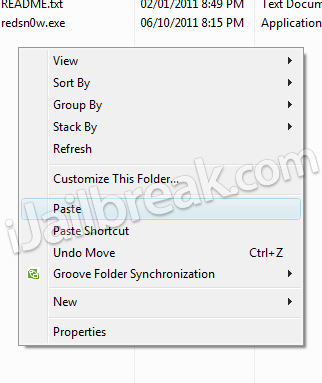 Step 4) – When RedSn0w has been copied you will need to simply rename copied version (boot_tethered.exe) or something with the word boot in it.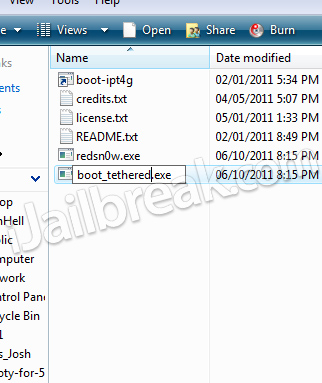 Step 5) – Upon renaming your copied RedSn0w file to something that has the word boot in it, you can drag it to your desktop and whenever you need to boot your iPhone, iPod Touch or iPad into a usuable state you will simply need to click the re-named RedSn0w file.
That is it! Just a simple tip if you are currently managing a tethered Jailbreak on a Windows computer. Hopefully this helps you save some time. For more how to's from iJailbreak.com, visit the How To Section.