It's amazing that so much space in even a Mini-SIM card is inert plastic. I can't for the life of me understand why we had two generations of progressively smaller SIM cards between SIM and Nano-SIM when the later is pin-compatible with the former. Why not make it as small as the chip will allow and be done with it? At the very least, it would prevent Apple from adopting yet another new standard.
That said, if you're switching carriers for the iPhone 5, making the SIM fit in the iPhone 5's Nano-SIM card tray might not be as simple as trimming the carrier's SIM card. While the contacts remain the compatible, Nano-SIM is the first SIM card to break with the standard SIM card's credit card thickness (0.76 mm). At 0.67 mm, a tray designed for Nano-SIM might not be able to accommodate cutdown cards from other carriers.
At least, that was Cnet's worry. Although news outlets don't currently have an iPhone 5 to test the phone's tray, there is the possibility that it won't accept standard cut-down SIMs. Cnet's solution? They took a piece of sandpaper in one hand, pliers in the other, and sanded away 0.09mm of excess plastic. Although the fumes released from the abrased plastic were probably toxic (Cnet recommends wearing a face mask), the encased chip remained functional and worked with the HTC One X afterwards.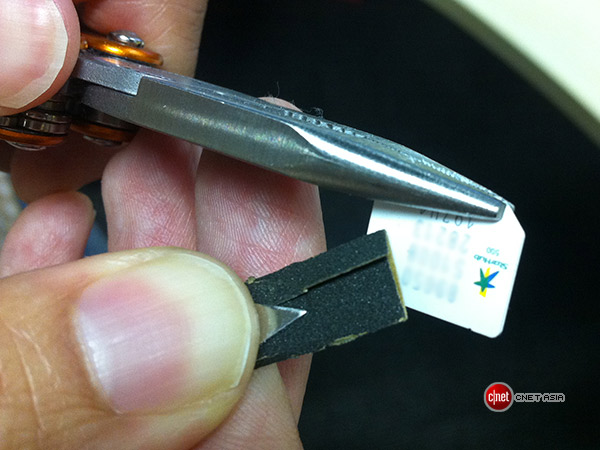 While I wouldn't recommend huffing SIM card plastic, it seems that the Nano-SIM cards CAN be cut from regular SIM cards. It just takes a little more work.
Will you be using your phone with a carrier that won't be offering Micro-SIM cards? Share your thoughts in the comments section below.