There aren't yet many new Cydia tweaks worth checking out for iOS 7 yet, but there have been a few tweaks released over the last couple of days that may catch your interest.
The first tweak is called Video Zoom Mod and what this tweak does is allow your iPhone 4 or iPhone 4s to zoom while shooting video. By default Apple removed the ability for these legacy devices to support zooming while shooting video, but with this tweak you can regain this functionality.
Upon installing Video Zoom Mod simply head on over to the Settings app to configure its basic functionality. The tweak is available for free in the BigBoss repo.
SwitchSpring is another tweak that potentially could be of use to you. What this tweak does is allow you to quit all applications in the multitask switcher or respring by simply swiping up on the Springboard card. When you do this a menu will appear like shown below.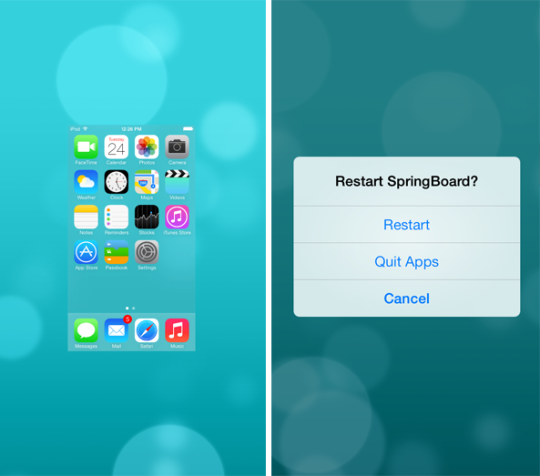 SwitchSpring is available in the BigBoss repo for free.
The last tweak worth mentioning is HiddenSettings7. This tweak opens up additional options for customizing the Springboard, usually only accessible by Apple. The best way for you to understand this tweak would be Apple's internal version of Springtomize 2.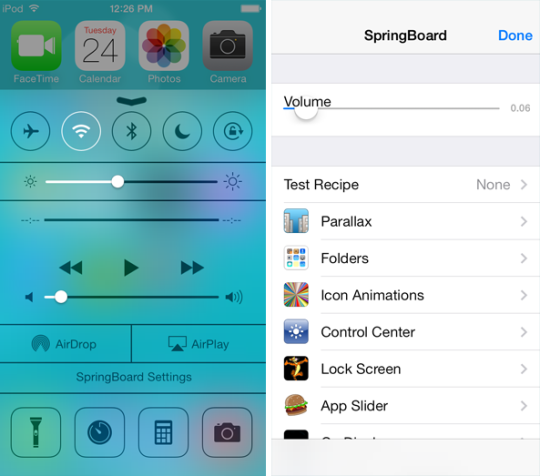 There are a ton of hidden settings that are configurable, way too many to cover in this particular post. The configurable sections include:
Volume
Test Recipe
Parallax
Folders
Icon Animations
Control Center
Lock Screen
App Slider
CarDisplay
Lock Screen Test Plugin
Screen Fade Animation
Alert Items
Notification Center
Legibility
Wallpaper
Icon Adaptive Colors
Prevent Screen Dim
Animation Overrides
Restore Defaults
Most of these sections have their own panels which include a variety of toggles that allow you to do things like nest folders, mess around with gravity, change animation speeds and so much more.
You can find HiddenSettings7 also in the BigBoss repo for free.
Update #1: If you are wondering why these tweaks are not working on your device, but they are working for my Jailbroken device running iOS 7, click here.