The Springtomize 2 Cydia tweak is a tweak that I recommend to all who are interested in customizing the iPhone, iPod Touch or iPad. Springtomize 2 is by far one of the most useful Cydia tweaks developed as it combines the functionality of numerous of other Cydia tweaks into one easy to use interface. Meaning, for example, you can customize the Statusbar, folders, dock, app labels and so much more! Almost any part of your iOS device you can think of can be customized to your liking with precision control.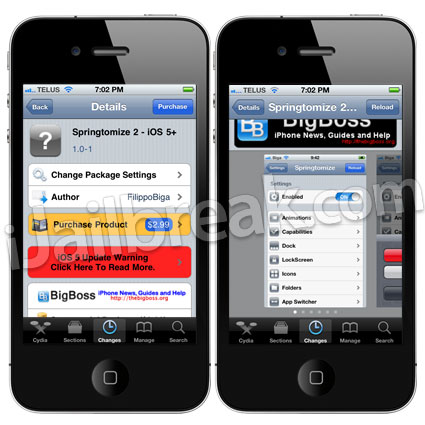 If you used Springtomize 2 on your Jailbroken iPad you would know that the interface for Springtomize was not fully compatible with iPad. A new update for Springtomize 2 released recently, however, brings native support for the iPad, instead of just running in 2X mode. This update also includes new features and bug fixes for all iOS devices. You can take a look at the complete changelog for this update in the quoted area below.
New:

full iPad, iPad 2 and iPhone 4S compatibility
new options for the coverflow dock effect, including 3 different modes and the ability to adjust different aspects
landscape / portrait options for icons for the iPad
transparent notification center
hide dock shadow
hide AM/PM in status bar

Fixed:

random icons flipping while coverflow effect was enabled
icon image effects not applying to webclips
dock icons disappearing after hiding dock under certain circumstances
folder labels not hiding in the dock, when "Hide Labels" for Dock was enabled
the user is now informed if the daemon is not running when toggling substrate addons
notifications on lock screen misplaced when top bar was disabled
automatic backups not working on some devices
folders shadow not hiding properly
fixed misplaced icon when 5 rows was enabled on the iPhone after 1.2-1 update
If you have purchased Springtomize 2 you can simply refresh your sources and update to this new version. If you have not purchased Springtomize 2 you can find it through the BigBoss repo for a price of $2.99. Let us know what you think about this update in the comments section below.