Have you been looking for something fresh, a new way to interact with your iOS applications? If you have been following the Apex Dev-Team consisting of @bensge, @FTO2g and @satropuk on Twitter these days you might have seen some pictures or heard of Velox, a much anticipated tweak that many have been waiting for.
Velox allows users to interact with your home screen icons by using a simple swipe up or down gesture that reveals notifications, quick functions and more. If you swipe up or down on the Settings application you will notice the settings toggles in a folder.
Use the swipe gesture on the camera icon to reveal your camera and take a photo or video right from the home screen. Swipe down on the Photos app  so you can post your last photo to Twitter, Facebook, send it via email or copy it and send it through iMessage. This is just the beginning.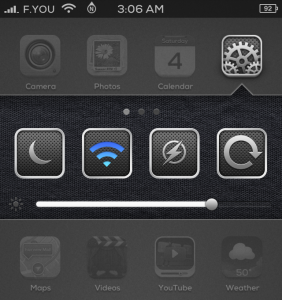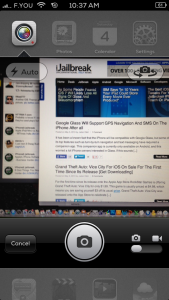 The primary purpose of Velox is the ability for quick access to your app's notifications. Just like using the Notification Center, users can interact with the notifications as well by tapping on them. Notifications can be cleared by a simple pull down gesture. Quickly take a look at your recent phone calls to text them or place a phone call.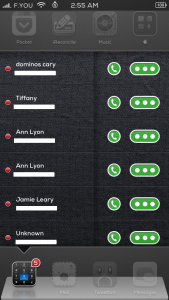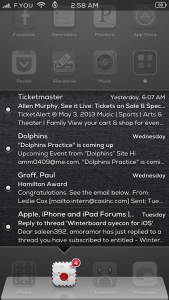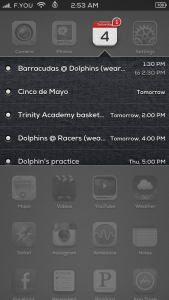 There happens to be a Velox preference panel in the Settings application where you can change the icon swipe directions, turn on or off quick reply Messages, and turn on and display only the notifications folder of an app instead of the enhanced folder for a certain application.  Remember to re-spring your device if you change the Icon Swipe Directions. In addition there is a tow-to guide in the Velox settings as well as the team support email.
There happens to be a lot to discover with the Velox tweak. Not only is it fun to use a swipe like gesture on your icons and feel like your using the application without actually opening it, but developers have already started making folder plugins.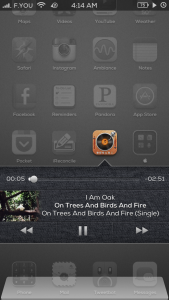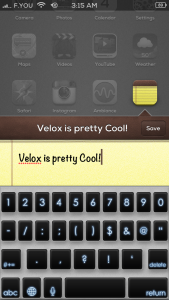 Carrox or CARROT will be submitted tonight by Adam D or @thekirbylover. The ceiling looks high for this tweak because users will find extra folder plugins in Cydia, which will be developed and be dedicated to just Velox. Velox can be found in the BigBoss repo in Cydia for $1.99. Let us know what you think about the tweak in the comment section below. On a side note, Velox is fully compatible with the Abstergo Cydia tweak as well that allows you to manage your notifications better as well.