I'm Busy SMS: Politely Ignore Calls On iPhone
You've seen EzDecline to reject incoming voice calls, here's another tweak that will allow a user to quickly reject an incoming call with a swipe of a finger to generate an automated SMS to the caller notifying them of your availability.
Go ahead and search for "I'm Busy SMS" in Cydia. You'll have to scroll down the search results a bit as it doesn't appear at the top.
There are no additional icons installed onto your SpringBoard, and everything can be configured from within the Settings.app
The tweak can be activated for only certain numbers, enabled or disabled, and also send a custom message in the SMS reply. When a call comes in you cannot answer, simply swipe: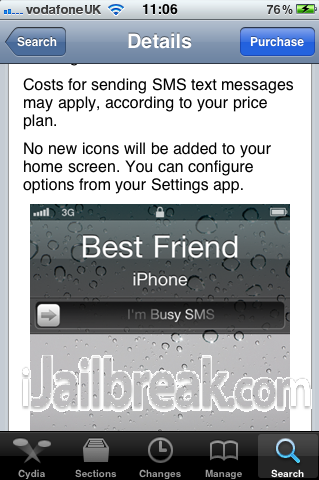 It's a great tweak, and for only $2.99 in Cydia. Never rudely reject an incoming call again! Unless you want to of course.
RSSWidget For iOS 5: Get Your RSS Feeds In iOS 5 Notification Center
Following on from the first tweak released for iOS 5 that puts a nice looking UISettings bar in the Notification Center, the same developer also brings an RSSWidget.
A simple, yet effective tweak allows a customised RSS feed to be displayed in the Notification Center to bring your favourite posts from your favourite site without the need for a dedicated App, or the requirement to refresh – it handles it all in the background.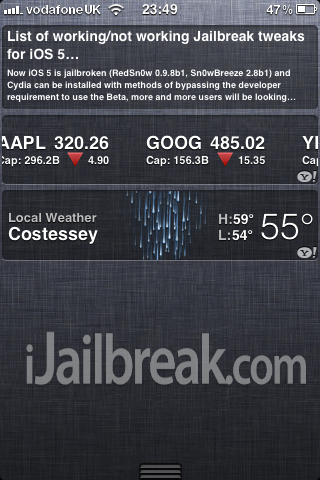 To enter the address of the RSS feed, you will need to follow this simple guide:
1. Open iFile and connect via SSH to your iPhone.
2. Navigate to the path / System / Library / WeeAppPlugins / RSSWidget.bundle /
Open the file labeled com.idevhaice.rsswidget.plist
3. Change the URL indicated by entering the URL of the desired RSS feeds.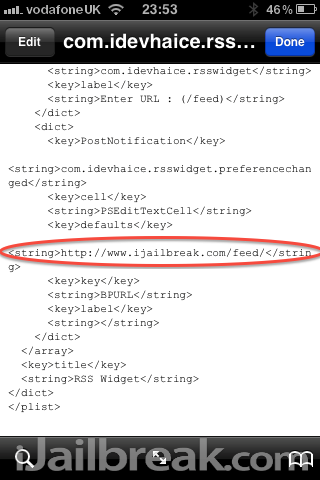 To download and install the RSSWidget iOS 5 widget you must add the repository:
REMOVED
FlashLock: Turn iPhone 4's Flash From The Lockscreen
Many of you are probably sick and tired of hearing about flashlight tweaks available in Cydia. For awhile there it seemed like Cydia was being constantly bombarded with them. The truth about most of the flashlight tweaks available in Cydia, however, is they are poorly developed and have never really caught my interest.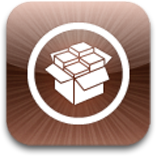 This is why Filippo Bigarella, in partner with iDB, have developed a brand new flashlight tweak that feels like it was natively developed by Apple; this flashlight tweak is called FlashLock. To activate FlashLock, simply double tap the home button from your lockscreen and it will bring up the flashlight icon. Tap this icon and your iPhone 4 camera flash will light up until you tap the icon again.

If you are interested in trying out the tweak you will need to add Flipp's source through Cydia (Manage > Sources > Edit > Add):
http://filippobiga.me/repo
For all of you who are wondering FlashLock is a FREE tweak that everyone can take advantage of.
CameraLock: Mimic iOS 5 Camera Button On The Lockscreen
As the title suggests, there is a new tweak on Cydia. This will create a new button on the lockscreen, next door to your slider (as seen in the image below). The new button will allow instant access to the Camera app straight from the lockscreen.
This feature, if you do not already know, is a new addition in iOS 5. However, as iOS 5 is still in beta, and only available for a select few at the moment, CamerLock is the closest you can get right now.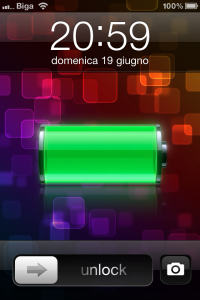 The tweak comes with an options menu, giving you the choice to choose which is your stock Camera application to use, as well as deciding whether after use the iDevice should remain unlocked or locked.
A pretty cool addition I would say. The tweak comes courtesy of filippobiga, so you'll need to add his repo below in order to find the tweak in Cydia:
Filippobiga.me/repo
Let us know in the comments what you think about these jailbreak tweaks.