If you have a Jailbroken iDevice I am sure you are familiar with the Cydia tweak SB-Settings. In fact this one tweak is the reason why many people continue to Jailbreak to this day. If you are not familiar with the tweak I suggest you go into Cydia and give it a whirl. SB-Settings is an all in on toggling tweak that allows users to quickly toggle frequently used settings such as WiFi/3G without having to go into the settings.app. While SB-Settings will continue to be one of the most popular Cydia tweaks of the Jailbreaking community, a new tweak has surfaced for the iOS 5 firmware that could, for many, replace SB-Settings.
Enter the world of UISetting – A simpler and easier to use alternative to SB-Settings that natively integrates into the iOS 5 firmware's notification center. Once installed UISettings will appear right above the notifications themselves (and below other stock notification widgets such as Weather). From there, just like SB-Settings, you can toggle numerous settings including Wifi, 3G and Airplane mode.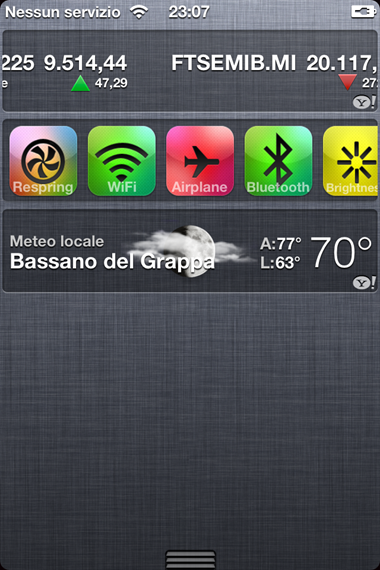 UISettings is the first Cydia tweak (third party widget) for the iOS 5 firmware's Notification center and hopefully not the last.
If you are currently running the iOS 5 firmware and are Jailbroken using the new tethered beta of RedSn0w you can install UISettings by adding the Cydia repo below (Manage > Sources > Edit > Add):
The 14 year old Italian based developer, qwertyoruio, also had released an earlier version of UISettings compatible with the iOS 4 firmware that plugged into the multitasking pane, as opposed to the just-introduced Notifications Center. If you're still running iOS 4, you can still install the old version by downloading iFile on Cydia, then pointing Safari to this link, hitting "Download" then choosing the "Open in iFile" option.
Let us know your thoughts on the first Cydia tweak for the iOS 5 firmware, UISettings, in the comments section below…
[Via Redmondpie]