EZDecline: Adds Accept/Decline Button When iPhone Is Locked
Are you annoyed when you get a phone call at a bad time: when you're sleeping, in a meeting, busy talking to a family member or a best friend, making sweet sweet… banana bread, and the only option displaying is "Slide to Answer"?!
It can get very annoying to wake up to a phone call disoriented, not knowing what the heck is going on, just wanting to go back to sleep, but your phone will not let you decline the call (at least easily). EZDecline fixes all of that, seamlessly.
This tweak restores the "Accept"/"Decline" buttons from a call, even when your phone is currently locked/asleep (the key improvement).
Are you concerned about compatibility? This works on all iPhones, all modern iOS/firmwares, and on the Retina display, perfectly! And, with it using the system's localized strings for the button titles, you don't have to worry if you're a themer or string changer.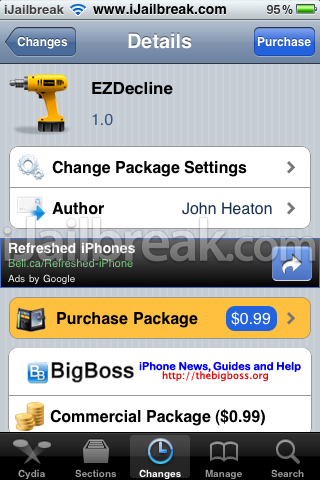 The EZDecline jailbreak tweak is available in the Cydia Store via BigBoss repository for $0.99.
External iPod Controls: Convert The Volume Buttons Into iPod Controls
External iPod Controls is a handy tweak in Cydia, developed by ipodtouchmaster, that converts your volume buttons into iPod controls. You will be able to skip to the next song by pressing the "up" volume button and skip to the previous song by pressing the "down" volume button.
Where there's no music playing your buttons will work as they normally would. When there's music playing and you want to change your volume with the buttons, no problem. After a pre-determind amount of time (which can be changed in the settings) of holding down a volume button, the volume will start to work as your would expect.
External iPod Controls is available in the Cydia Store via BigBoss repository for $0.99.
iGotYa: Protect iPhone, iPad And iPod Touch Against Thieves
If someone stole your iPhone, it's the worst thing that can happen. Want to know who stole it? Then the iGotYa Cydia application is for you! iGotYa is a new application in Cydia for protecting your iPhone against thieves, nosey people, or anyone who's using it. How it works is, it takes a picture of the thief or persons face (front facing camera on iPhone) and gets the location where your iPhone is.
You will need to enable your iPhone with an unlock code so if the unlock code is entered wrong, iGotYa will snap a picture, record the location of your iPhone, and send it to your email. You can also allow access to the iPhone with a wrong code entered but all you personal information (Call History, Mail, SMS, Web History, etc.) will be hidden. In addition, you can configure a message which will appear on the SpringBoard (shown in the screenshots below).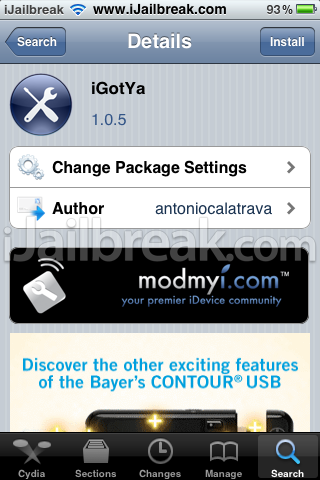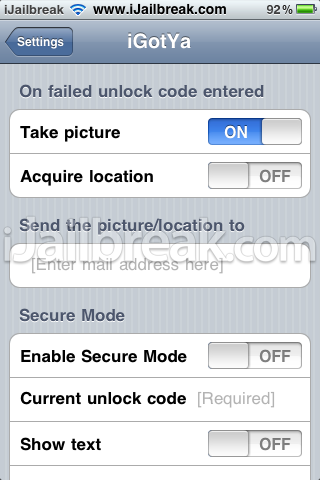 It is available on Cydia via ModMyi for $4.99, after a free trial period.
SIManager: Copy SIM Card Contents To/From Your SIM Card
While it is no doubt that the iPhone is one revolutionary smartphone, there is still a lot of small features missing from the iPhone. An example of one such missing feature,  is the ability to copy contacts from your iPhone, directly to your SIM card. While you can copy contacts from your SIM card to your iPhone, you cannot do the reverse of this process and transfer contacts from your iPhone directly to your SIM card.
Luckily a new Cydia tweak has been developed to get past this limitation and it is called SIManager. This Cydia tweak allows you get past apples limited SIM card functionality; by allowing you to copy SIM contacts to and from to iPhone, modify and delete contacts, and even backup and restore contents on your SIM card.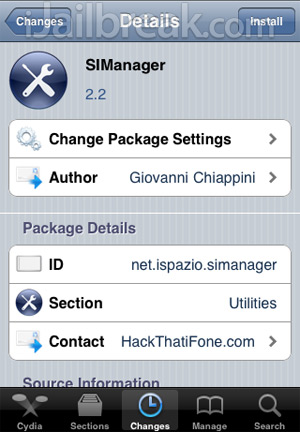 If you are looking for a tweak to extend your SIM card functionality, then SIManager is the tweak for you! It is even available free via Cydia through the BigBoss repo.