This months edition of the iJailbreak Exclusive awards truly featured some sleek themes and even some brand news theme developers. With themes like Blackberry Impressions and FroYoIOS, it is clear that theme developers can really maugimic any OS on the iPodTouch/iPhone. While all of this months Extraordinary themes were truly Extraordinary, one theme managed to pull out on top and this theme was AfterHours by FreeApple. One developer that we are sure we will see back again soon. Congratulations to all, and keep up all your hard work!
This Months iJailbreak Exclusive Award Goes To…
AfterHours – By FreeApple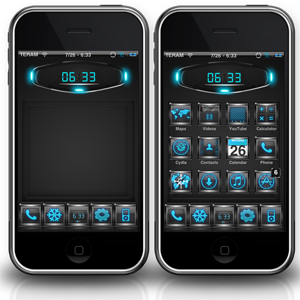 Sometimes WinterBoard themes are so unique, and so well done that you become lost for words when you look at them. AfterHours by FreeApple is one great example of such a theme, and when you look at its unique futuristic style; it is clear why it won this months iJailbreak Exclusive Award. Whether its AfterHours complete UI overhaul, or sleek looking clock widget. This is one theme to show off to your friends.
September has almost come and gone, and as we venture into this months iJailbreak Exclusive Awards you will really see some unique themes. This month we see a new theme developer to the iJailbreak Exclusive Awards – FreeApple; who took gold with his theme AfterHours. This theme is a true example of a WinterBoard theme that will forever be appreciated, and used by users around the world. Congratulations also goes out as well to all the other themes that made it into this months top 6 extraordinary themes of  September. Please make sure you take a look at the top 5 runner up themes that made their way into this month's Top 6 Extraordinary Themes of  September.
Blackberry Impression – Heath_Rox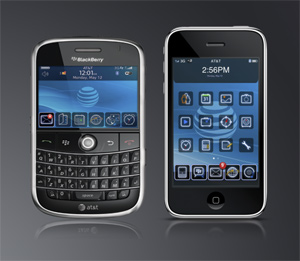 Not very often do we ever feature themes that are developed by first time theme developers, but when we saw Blackberry Impression by Heath_Rox… we had no choice! It is very quickly realized that this theme packs some sleek and unique style, with some resemblance to the Blackberry smartphone. When you install this theme on your iDevice, you really will get a blackberry impression!
FroYoIOS – By NiteStarzz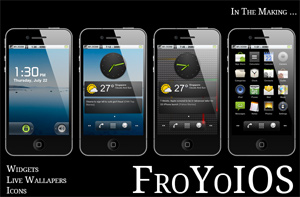 It is no question that the FroYo (Android) Operating System is gaining popularity. So why not develop a theme for the iPodTouch/iPhone to resemble it? That is exactly what NiteStarzz has managed to do, and while his theme FroYoIOS is still a work in progress, it is quickly gaining popularity. As you will quickly find out why… Coupled with unique FroYo style, and a sleek UI overhaul, FroYoIOS is one theme to be showed off to the world!
1derful – By TCcentex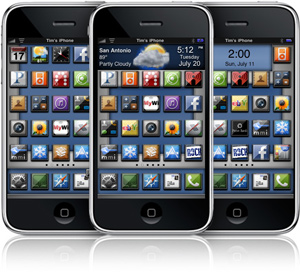 If you are someone who has a lot of icons, or are looking for a theme with a lot of customization options, 1derful is the theme for you! This theme packs some serious features, like custom widgets, UI, Music Player and more. This theme is great if you are looking for a theme with some unique style and functionality. What are you waiting for?
Kryptonite – By Flybritn
This theme packs a sleek UI, coupled with a unique green color scheme to bring fourth a theme that is truly out of this world. Kryptonite truly does stand out from the crowd with some great features. Not only does this theme provide Auto Icon creation, but some unique skins for apps like dTunes! This is one theme you should check out right now.
NineHD – By Zausser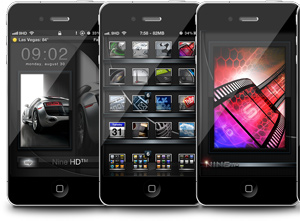 This is the first time the iJailbreak Exclusive Awards has featured a HD theme, and we think we will begin featuring more! NineHD by a notable theme creator that goes by the name of Zausser. He truly takes HD to a new level. NineHD truly takes hold of the iPhone 4's Retina display, and displays UI elements like no other theme can compete with. If you are looking for a theme for your iPhone 4, this is the theme for you.
This months top 6 themes of September featured some new developers and really displayed their talent and unique themes. Whether you are looking at this months winner FreeApple, with his theme Afterhours, or Zausser's HD theme NiceHD. You can clearly see just how much talent these theme developers really possess.  These were the top 6 Extraordinary themes of  September 2010, If you are interested in submitting your theme to the Top 6 Extraordinary themes of October then please contact me.