Well folks this months Top 6 Extraordinary Themes of July will leave you surprised at just the amount of truly unique ideas that are coming into the theming world. You will quickly see what I am talking about when you look at not only this months winner EightOS but the other themes that made it into this months top 6 extraordinary themes of July.
Just like other months (May, June) this months iJailbreak Exclusive Award was a tight choice, however it was obvious who should take gold at this months iJailbreak Exclusive Award. As soon as we looked at EightOS we knew it was the one. This theme was developed by Nick Knight and Brendon Cunningham; two very talented theme developers that really reserve the recognition and the iJailbreak Exclusive Award of July!
This Months iJailbreak Exclusive Award Goes To…
Eight OS – By Entombed Sh4dw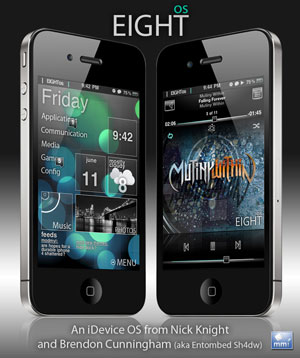 When you look at something like a WinterBoard theme what do you expect? For a lot of people an ideal theme is one that is sleek, easy to use and packs an original idea. When we took a look at EightOS you not only see pure elegance and joy but one original idea that has been developed to its fullest. EightOS brings together functionality that Apple never intended to bring fourth on their devices and this is clear when you try EightOS for yourself. Extraordinary, Elegant, Brilliant are just some of the many words that come fourth to describe EightOS, but to truly appreciate EightOS; take a look at the theme for yourself…
Nine – By Zausser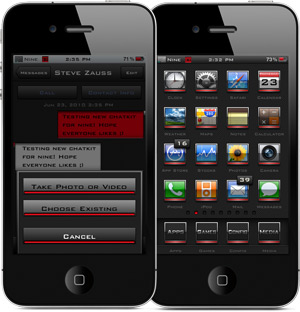 Are you looking for a theme a complete theme that is truly unique and clean at the same time? If so you should definitively check out Nine, by Zausser as this is theme packs some serious originality. Not only does the theme look extraordinary it feels extraordinary as you are using it on your iDevice. Every UI element you can think of has been styled, meaning you will not see un-themed elements that degrades themes. Whether you are looking at Nine's unique style or originality, I can say that this theme is truly extraordinary.
Monster – Mrpunk2u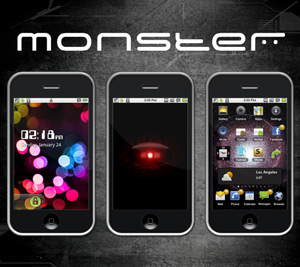 When you first take a look at Monster by Mrpunk2u you will notice its resemblance to the Droid and Nexus One and this makes this theme one of a kind. Everything in this theme flows together to create one truly unique looking theme on the iPod Touch and iPhone and you can really appreciate the amount of work that went into creating this theme. Its lockscreen is one of the most colorful/well done lockscreens you will have seen in awhile and its icons are truly original. If you are looking for a great looking theme that is lighter on Springboard you will need to check out Monster!
iLink ReMix – June'sIphone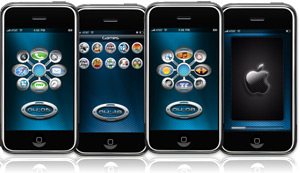 Now there are not many theme's out there that pull off a completely original idea for an iPod Touch or iPhone theme, and iLink Remix is probably one of the most original ideas I have seen for a theme in awhile. This theme uses a clever 8 icon layout per page; formed in a circle. Now this idea of navigation not only works well but looks extremely unique as well. If you are looking for a theme to show off or impress someone this would be the theme for you!
iD3 – By ToyVan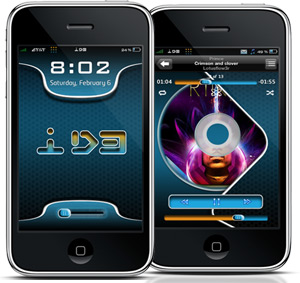 Here we have another great theme that has a similar blue styled theme that not only looks great but packs some killer functionality as well. iD3 by Toyvan features auto-icon create software that will create an icon for every app that you have installed regardless of whether or not it has been pre-themed. This means that you will never have to worry about un-themed icons again! Besides the icon functionality this theme not only looks extraordinary, it is extraordinary! If you are looking for a theme that is not only complete but unique looking iD3 is the theme for you!
Windows 7 Ultimate – Ebl4287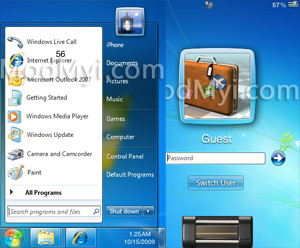 Thought you were looking at the Windows Vista Operating System? Well so did I when I first saw this theme. Not only is Windows 7 Ultimate by Ebl4287 the best impression of a Desktop OS through an iPod Touch/iPhone theme it also functions great! Whether you are looking at its sleek icons and user interface or how folders and menus were implemented. It is definitively clear that Windows 7 Ultimate is a theme to show off!
This months top 6 themes of July were truly some themes that stood out to a lot of us. Whether you are looking at this months winner's theme EightOS or iLink Remix by June'sIphone; you can see that theme developers are truly coming up with more and more extraordinary ideas. These were the top 6 Extraordinary themes of  July 2010, If you are interested in submitting your theme to the Top 6 Extraordinary themes of August then please contact me. What are your thoughts on these extraordinary themes?