Swipe The Statusbar To Adjust iOS Screen Brightness With Swipebright Cydia Tweak
Would you like a quick and easy way to adjust the brightness of your iOS device's screen without having to go in the Settings.app? Well, if you answered yes to this question then you should check out the Swipebright Cydia tweak. With the Swipebright Cydia tweak you can adjust the brightness of your iOS device's screen by simply sliding your finger horizontally across the statusbar. That is it! Simply slide your finger to the left and decrease the brightness of the screen or slide your finger to the right and increase the brightness (configured through Activator).
The Swipebright Cydia tweak also comes with options to specify whether you want the tweak to be active at the lockscreen, everywhere or only on the SpringBoard (homescreen). You can also set the Deadzone, which is essentially the sensitivity of the horizontal finger swipes. Overall if you would prefer simply swiping on the statusbar to adjust the brightness of your iOS device's screen, as opposed to using SBSettings or a Notification Center widget then you should definitely download this tweak right now.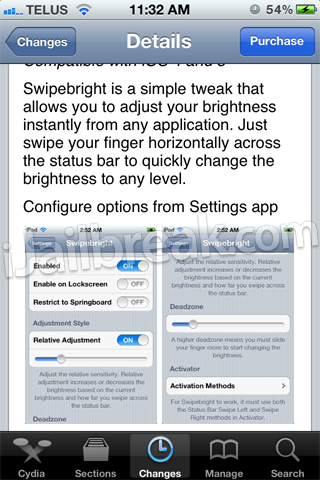 For those who are interested you can download Swipebright from the BigBoss repo for a price of $0.99. Don't forget to share your thoughts about the tweak in the comments section below…
Make sure you stay subscribed through our social media feeds, so that you never miss a beat, by liking us on Facebook, following us on Twitter and joining our circle on Google+.
Hey, you! Join the iJailbreak Insider for weekly newsletters, Jailbreak alerts, contests and more. (No spam, we promise)