Would you like an extremely quick way to take pictures on your iPhone, iPod Touch or iPad? Did you now that launching the native iOS Camera.app can take up to 6 seconds to load? If you are in a hurry to take a picture on your iOS device you want to be able to access the Camera.app as quickly as possible. The iOS 5 firmware does add a shortcut to the Camera.app from the lockscreen to speed things up, but what if you are inside a running application? This is where the Snappy5 for iOS 5+ Cydia tweak comes in handy. As with the Snappy5 for iOS 5+ Cydia tweak you can launch the Camera.app from just about anywhere using an Activator command of your choice.
There are actually a few different selectable commands from Snappy and they range from Snap on Launch to Record on Launch. Another neat aspect to the Snappy5 for iOS 5+ Cydia tweak is that it launches the Camera.app up to 6x faster than clicking the native Camera.app shortcut on your SpringBoard (homescreen).
Note: The Snappy5 for iOS 5+ Cydia tweak will be a free upgrade if you purchased the 3.x or 4.x version. This specific version of Snappy is only compatible with the iOS 5 firmware generation and must be configured through the Activator Tab in the Settings.app.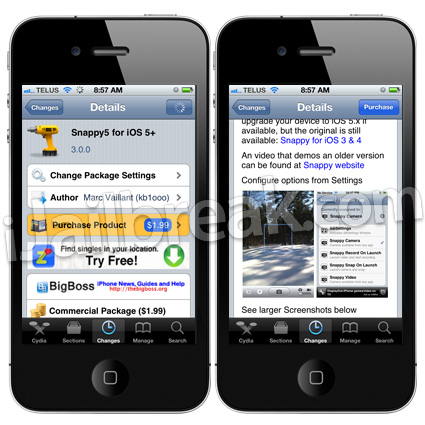 If you are interested in the Snappy5 for iOS 5+ Cydia tweak you can find it for $1.99 in the BigBoss repo through Cydia. Please let us know what you think of the Snappy5 for iOS 5+ tweak in the comments section below…