It is no question that there has been numerous attempts made to bring Siri to older generation iOS devices. One of the best attempts comes in the form of the Spire Cydia tweak, but the only problem with Spire is that it requires you to have access to a Siri proxy server. Thus, due to this requirement many people have not been able to successfully use Siri on their older generation iOS device.
If you are looking for a free alternative to Spire that does not require a Siri proxy server then you may want to check out the SARA Cydia tweak. What is SARA? Well, SARA is one of the best Siri clones ever developed that has the same GUI (graphical user interface) as Siri and supports the iPhone 4, iPhone 3GS, iPhone 3G, iPhone 2G, iPad 1G, iPad 2, iPod touch 4G, iPod touch 3G and even the iPod Touch 2G.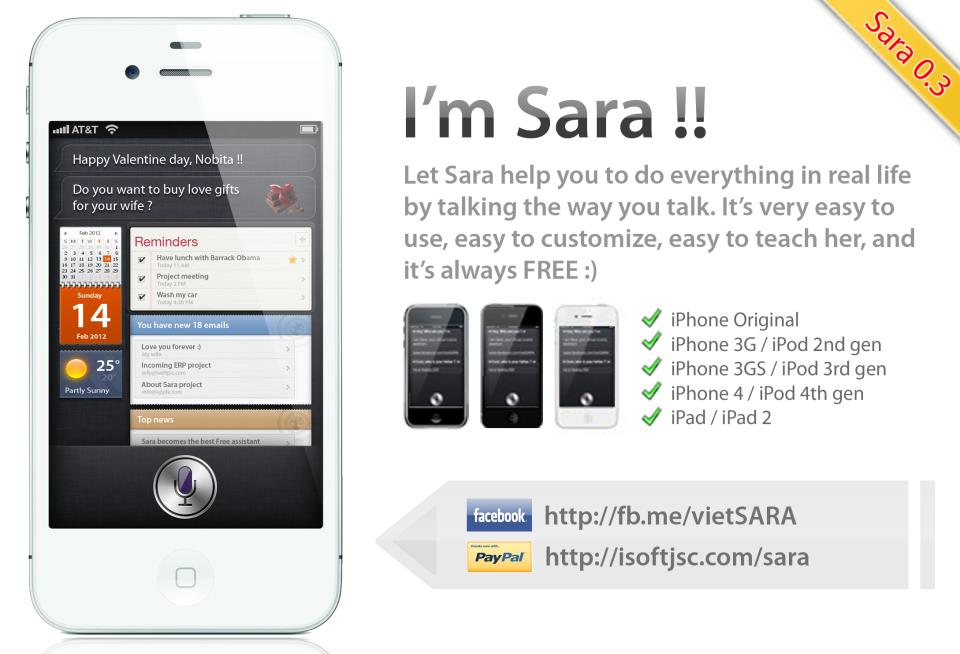 What sets SARA apart from other Siri clones is that the SARA Cydia tweak extends the default functionality of Siri by a ten-fold. You can, for example, find places anywhere around the world, control your computer, send messages, translate words, update social media accounts like Facebook/Twitter and so much more all with the power of your voice. You can take a look art the complete list of features for the SARA Cydia tweak in the quoted area below.
Find local business & direction (everywhere, not only US and Canada)
Search Google, Wikipedia
Call, message
View the movie schedule from nearest cinema
Read newspaper (via RSS)
Check mail
Remote control PC
Search videos from youtube, songs
Toggle on/off system functional (wifi, bluetooth, 3G etc)
Translate, support > 37 languages
Read barcode, qr code then find price, local business sell this
OCR feature (Image to text), you can use Sara instead of scanner
Social network support, share photos, comments on Facebook, twitter
Search product price, local business
Open apps
Weather
If you are interested in downloading the SARA Cydia tweak to your iOS device you can add the repository below by launching Cydia, going into the manage tab, then the sources section, clicking the edit and then the add button:
http://isoftjsc.com
I personally was not able to install SARA from the repository shown above because it kept timing out so I had to install it manually by downloading the Sara.deb 0.3 file. If you would like to also go this route click here to download the latest version of the Sara.deb file. We will have a how to available for installing the SARA Cydia tweak from the official repository and manually in the near future, until that time please stay tuned and leave any questions or thoughts in the comments section below…
Update #1: For all of you wondering the SARA Cydia tweak is based on Spire and uses a 3rd party server for most requests. This means that there is a possibility your personal information sent through Siri could be being logged (even though the author notes no information will ever be logged). Use SARA at your own risk.
Update #2: Click here to download if the above download link isn't working for you.
Update #3: There is now a complete how to for installing SARA both through Cydia and manually, which is available by clicking here.