Looking for a novel Cydia app you can use to kill some time? Randagram is a simple Instagram viewer that calls up photos tagged with "#random". Even if Randagrm isn't a particularly feature-packed Instagram viewer, it gets points for iPad support, which the official Instagram app still lacks.
To its credit, Randagram more or less does what it promises. Tap on the "randomize" button, and a picture tagged "#random" appears. Tap on the picture and your browser will take you to the photo's page on Instagram. Oddly, sometimes pressing the Randomize button quickly will bring up the same image. The reason this happens is because the developer took a shortcut and is just linking to the most recent post tagged "#random."
There's a weakness to only selecting posts that were described by their authors as random; instead of providing varied content that services like StumbleUpon provide, its limits the content to pictures that the authors already discounted. The "#random" tag attracts a disproportionate number of dogs in footy pajamas and teenagers striking poses.
This would be an easy fix. The stream #random could be replaced with a different tag. Or just the last photo submitted to Instagram, period. Randagram could also use a history function, for going back to previous images. As it stands now, if you press Randomize then the current picture will be gone.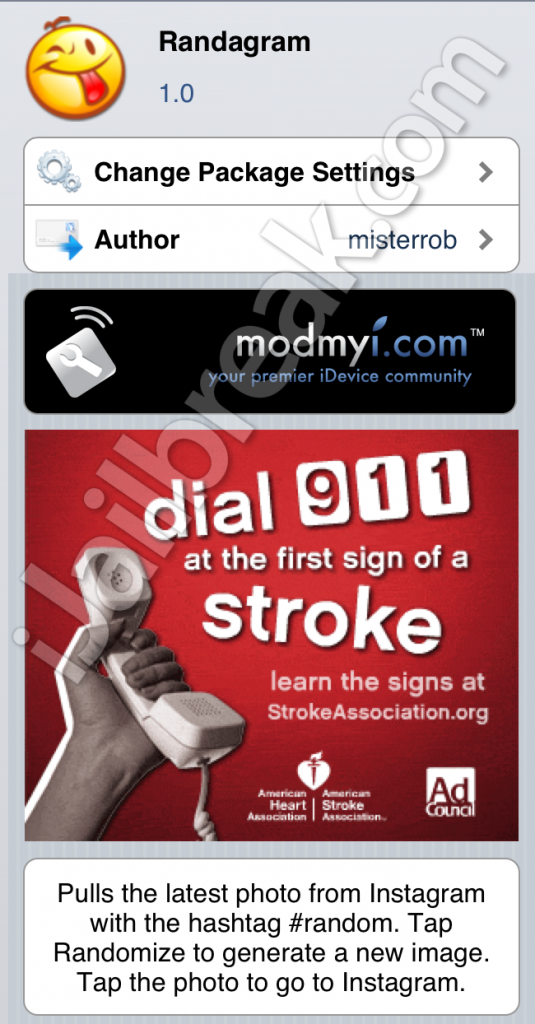 Randagram is a free tweak which can be found in the ModMyi repository on Cydia. You can share your thoughts on Randagram in the comments section below.