With all the hype about the new jailbreak JailbreakMe, a lot of users have missed that this jailbreak takes advantage of a vulnerable exploit. The way JailbreakMe actually functions is by  vulnerability in the iOS firmware, and more specifically the fact that the iOS firmware line downloads PDF documents automatically; without consent. Comex managed to use this exploit to his advantage, he injected a jailbreak payload into a PDF document that is executed on your iDevice once you "slide to jailbreak" on JailbreakMe.com. This means that while this is great for this specific purpose, if a malicious hacker wanted to use this exploit to his advantage; he could. Thus putting your iDevice at risk!

Luckily there has been an easy solution developed to help counter act this vulnerability. There is a new tweak available on Cydia called PDF Loading Warner and this will basically add another layer of security to your iDevice. Instead of downloading PDF files automatically, this tweak will make a warning message appear to ask if you want to download a specific PDF file. This means that, your iDevice will not be in such of a risk.
This new tweak is available for free on Cydia, via BigBoss repository, and if you have jailbroken your iDevice with JailbreakMe, this tweak must be installed immediately!
Update #1: PDF Loading Warner Gets An Update To Fix iBook And Clock.app Issues
Last week when we heard about the new jailbreak called JailbreakMe, we also heard that with the discovery of this exploit came the ability for hackers to access our iDevices (The same way JailbreakMe does). This is why a new fix called PDF Loading Warner was developed. This fix applies a warning message when a PDF file wants to be launched, asking you if you want to open the PDF file or Cancel it from launching. Obviously you would only allow it to launch from a trusted source.
This fix is last weeks news, however today PDF Loading Warner received a much needed update.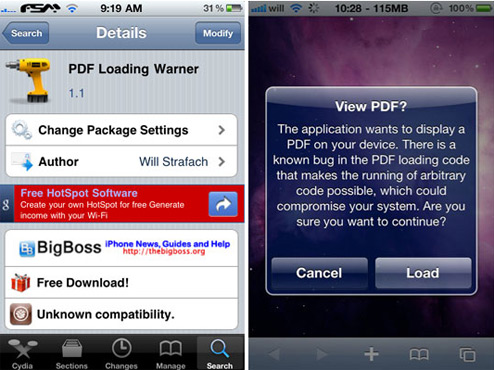 You may have noticed that when you installed this fix, that when you opened an iBook or even the Clock.app you would constantly be notified a PDF file is trying to launch. This is because Apple is using .pdf files in the Clock.app and even the iBook app. This update is here to fix these issues and we strongly recommend that everyone updates PDF Loading Warner.