PanoMod is the ultimate Cydia tweak when it comes to enabling Panorama mode on non-supported devices and also customizing the functionality on all devices. At first I brushed past PanoMod, but I am glad I gave it a shot because there is much more to this tweak than it leads on. This has to do with the fact it is actually a combination of Better Pano Button, Flashorama and LLBPano.
So the first big feature of the tweak is the fact that it enables Panorama mode on unsupported iOS devices. This is great for all of those who felt left out not getting the ability to take Panorama pictures on their outdated devices.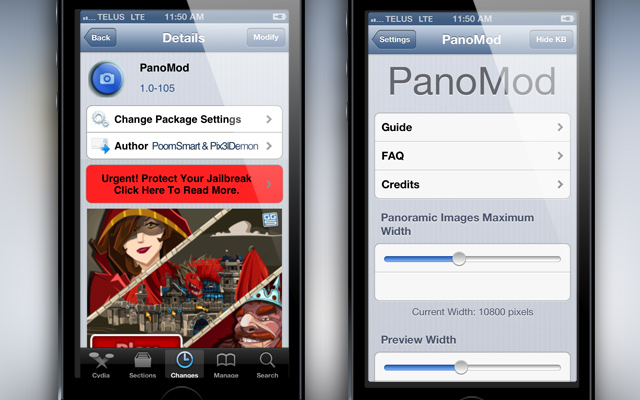 Perhaps the flagship feature of this tweak though is all the customization options it opens up for. You can literally customize just about everything you could think of when it comes to Panorama mode. This includes:
Panoramic Images Maximum Width
Preview Width
Preview Height
Min Framerate
Max Framerate
ACTPanoramaBufferRingSize
ACTPanoramaPowerBlurSlop
Instructional Text (Hide Text, Hide BG, Custom Text)
Enable Zoon
Enable Grid
Blue Button
Panorama Low Light Boost
Fix Dark Issue
Ability To Toggle Torch
White Arrow
Blue Line In Middle
White Border
These are probably way more options than you actually need and to be honest there is a lot of them that even I don't understand. Luckily, however, PanoMod comes with a great Guide that explains each option thoroughly that you can read through after installing the tweak.
If you are interested in PanoMod you can find it on the BigBoss repo for free. Let us know what you think of it in the comments section below.