The stock Notes application and iCloud is a simple and easy way to write down stuff and then sync those notes to our other iDevices. However, isn't there features that could be added to the stock Notes app that could enhance the overall experience while using the app?
NotesTweak was released last Sunday, developed by Lee McDermott and is available in Cydia via the BigBoss repo. The tweak adds some effective new features to the Notes application and if you're a user of Notes you might want to check it out.
One of the key features is being able to favorite individual notes as shown above. The favorite button can be found in-between the share and trash button when viewing a note. When users favorite a note they jump to the top of your notes list within the application.
When tapping on the share to menu option button within a note users will see two different options, the ability to Add to Home Screen or Dropbox. Adding a note to the home screen provides a nice and easy way to access or edit your note via a shortcut. Users will have the option to give the note a title before it's added to the home screen. Tapping on the shortcut's icon you created will take you directly to that note within the stock application. The other share to menu option that NotesTweak has to offer is Dropbox support. Users can individually upload notes to Dropbox to access them from other devices.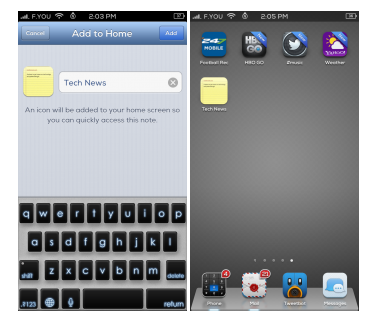 The NotesTweak even comes with its own preference panel in the stock Settings application where users can configure how the notes are uploaded to DropBox or how notes are ordered by within the application. Notes can be configured to HTML or a Text File format when uploaded to Dropbox. In addition, Notes can be ordered by Modified Date, Created Date, and Title when viewed within the Notes application.
Even though the tweak already has some nice options and features for the Notes application the developer is also going to add other options like; Note summaries in list view, Colored notes, Faster launching of the home screen notes, Share to Google Drive, Share to Evernote and bring about iPad support. Maybe this will be something we see in the next version of iOS, I sure hope the Notes application improves.
The NotesTweak is available in Cydia for $1.99 and requires iOS 6, let us know what you think in the comment section below and don't forget to check out our video review.