Today a cool Cydia tweak was released called MiniPlayer that adds an iTunes 11-styled media player widget to your iPhone or iPad that can be dragged anywhere on the screen and remains open at all time. The widget includes a play/pause button, along with skip buttons and another view that displays that track name and artist.
The widget will follow you wherever you go and this includes any app within iOS. When you find that the music widget is getting annoying you can swipe it to the right or tap on the album artwork and it will remain nearly completely hidden on the right side of your device's screen. You can bring the widget back out again by swiping on it.
There is no Settings for MiniPlayer which is kind of disappointing. In my opinion MiniPlayer should have an Activator action at the minimum that would allow the user to hide it completely. Although the widget does stay hidden when it is dismissed it can still become an annoyance sometimes, especially when gaming. MiniPlayer is probably best suited on the iPad where there is more screen real-estate, on my iPhone I find it gets too cramped with it installed.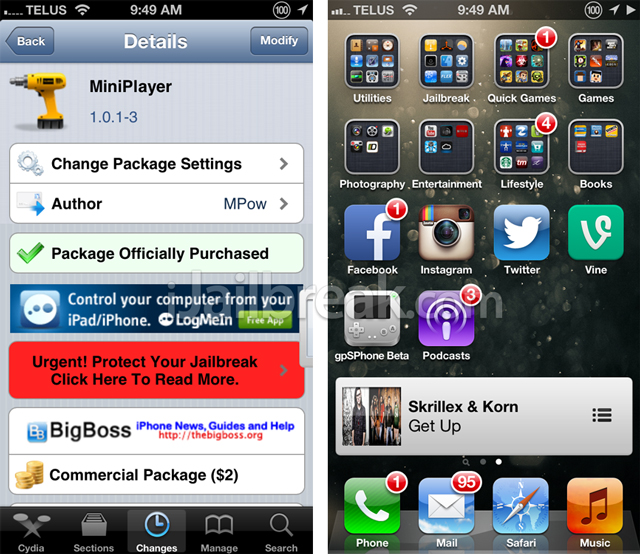 If you are interested in the MiniPlayer Cydia tweak you can find it on the BigBoss repo for a price of $2. The developer notes this tweak is an extension of the PowerMusic MiniPlayer tweak and if you already have purchased it MiniPlayer will be offered to you at a discounted price.
Be sure to check out our walkthrough video of the tweak and let us know your thoughts on the tweak in the comments section below.