When I first wrote about the MiniPlayer Cydia tweak I stated that it was a solid idea for a tweak, but just wasn't polished enough to be worth its $1.99 price on the Cydia store. I am very happy to report, however, that its developers have been adding new functionality over the last few weeks and have brought the tweak to a whole new level.
For those that missed my previous review of MiniPlayer, essentially the tweak adds an iTunes 11-styled media player widget to your iPhone or iPad that can be dragged anywhere on the screen. The biggest problem with the tweak when I first reviewed it was that there was no way to dismiss the MiniPlayer. One solution I pointed out would be to have an Activator action for the tweak.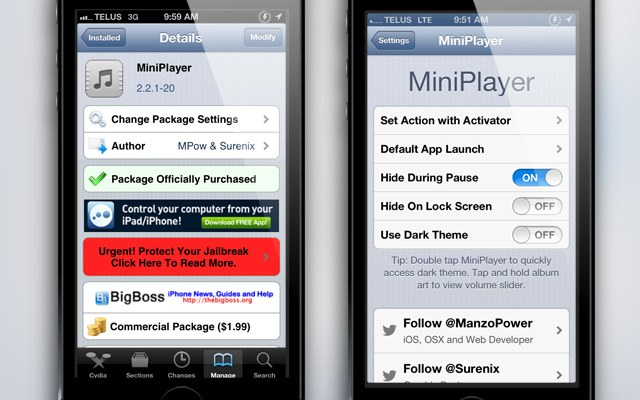 In its latest version MiniPlayer now has the option to hide itself when you are not playing music and appear only when you are playing tunes through any music app. There is indeed an option to also set an Activator action to bring up and dismiss MiniPlayer.
There is now even a new Black theme that looks extremely sleek. It can be applied in the Settings app or you can even switch between the white and black theme on the fly by double tapping the widget.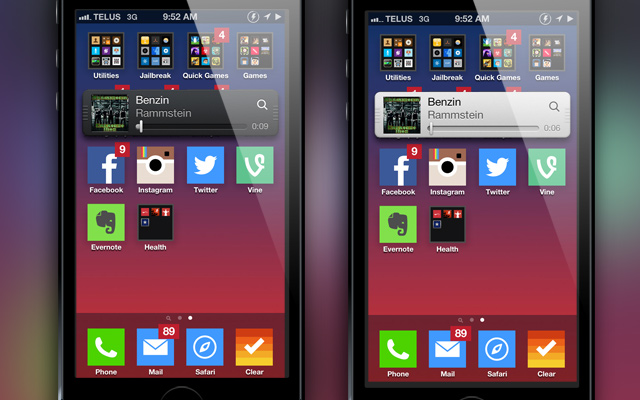 In the most recent update to MiniPlayer there is now the ability to search for songs through the widget as well. If you tap the album artwork you will even be brought to a configurable music app of your choice, which is set as the stock music app by default.
The widget can also be flicked to either the left or right side of the screen now, which is extremely convenient.
With the new added features and the developers frequent updates you would be crazy not to download the tweak! You can find it on the BigBoss repo for a price of $1.99. Let us know what you think of the tweak in its current state in the comments section below.