Yesterday we reported that none other than ZodTTD would be making a comeback to the Jailbreaking community and would be finally reviving popular emulators like GpSPhone, N64iOS and PSX4iOS.
Today ZodTTD has announced the birth of his public beta testing repository where anyone can test his latest emulators without having to pay a dime. The first emulator to make an appearance in his beta repository is GpSPhone 8 and it is definitely worth checking out.
As many know, I came back to iFans a short while ago with a question as to whether I should bring back my beta repo and start updating my jailbroken iOS work. The response here was overwhelmingly awesome! While it took me longer than I expected to jump back into things, I have a gpSPhone beta ready as promised. I set up a Cydia repo to add where my betas will be posted and able to be updated. It's a public repo and it's free with no obligation to donate, etc.
I have been playing around with GpSPhone 8 this morning and for a beta it is actually really good! I noticed very few issues and of the issues I did experience ZodTTD has already acknowledged them and promised to fix them in the near future.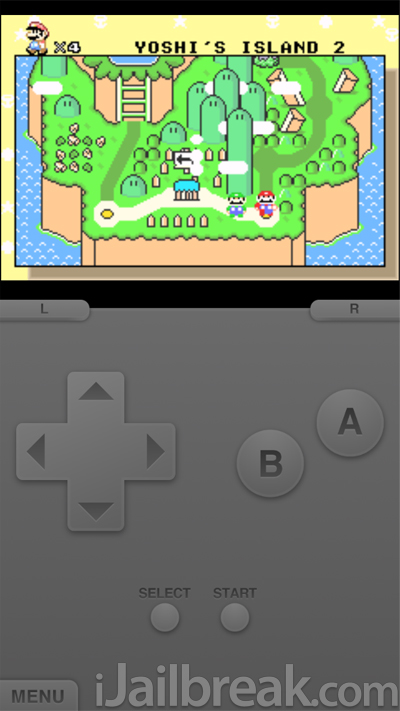 One thing that I absolutely love about GpSPhone 8 is the fact that it has support for download ROMs and the GBA Bios right from the app thanks to CoolRom.com implementation and its own file manager. This means no more tedious SSHing.
ZodTTD has said himself there is still work to do on the initial release and the following is lacking and will be worked on:
Controller skins need tweaking.
Installing and creation of controller skins can be improved (add via photo roll and button map, etc.).
WiiMote and Classic WiiMote support must be added.
At times the audio /still/ has clicks or pops though there might not be much that can be done.
A possible bug in the search and download feature that stops downloads from being detected.
A skin rotation lock option should be added.
If you would like to add ZodTTD's new beta repo for test emulators like GpSPhone 8, head on over to Cydia, go into the Manage tab, followed by the sources section, tap the edit button and then the add button and type the following:
http://cydiabetas.zodttd.com/
With the repo installed, tap the search tab and search for GpSPhone beta and install it to your iOS device (I have not tried installing it on the iPad yet).
How To Install GpSPhone 8 On iOS
With GpSPhone installed launch the app from your homescreen, tap the search icon in the top right hand corner of the screen and then tap the link under the search field for installing the GBA Bios. This will take you to a download page where you should see a download button. Tap this button now.
The download button is sometimes a little finicky as at the time of writing there is a slight bug that sometimes results in the button now working. If the download button isn't working for you close the app, delete it from the app switcher and try again.
When you tap the download button a popup should appear asking you whether or not you own the file legally. Tap confirm.
The file will now be present in the file overview page. Next you will need to install an actual ROM by using the search feature. Tap the search icon again, input a title such as harvest moon into the search field and tap the search button. Select the result you were looking for and then tap the download button and wait for the download to finish.
When the file downloads it will show up at the file overview page and you can play the game by tapping on it.
That's it! Enjoy playing Gameboy Advance classics on your iOS device.
Disclaimer: By downloading the GBA Bios and Gameboy Advance ROMs you agree that you legally own them already and you are just re-downloading them. If you do not already own them then you should not download them.