Gridlock has without a doubt been a very popular tweak throughout firmware generations and if you are one of the tweaks fans you will be glad to know it has been updated for the iOS 6 firmware generation in Gridlock 2.0.
For those of you who are new to the Jailbreaking community, Gridlock essentially makes your home screen more like that of a desktop home screen. That is, in the sense that you can arrange apps in whatever way you like, often times used to make room for widgets. This means apps no longer need to be placed side-by-side, they are free to be arranged any way you like!
This tweak means you don't need to spend time placing tedious blank icons, simply install Gridlock and you can begin experiencing the home screen layout of your choice.
The only unfortunate thing about Gridlock 2.0 is that it will not be a free upgrade for existing owners of the original Gridlock. This is because Apple totally changed the way icon movement works and this made Gridlock much harder to update. In fact, this new version is a complete rewrite of the original version.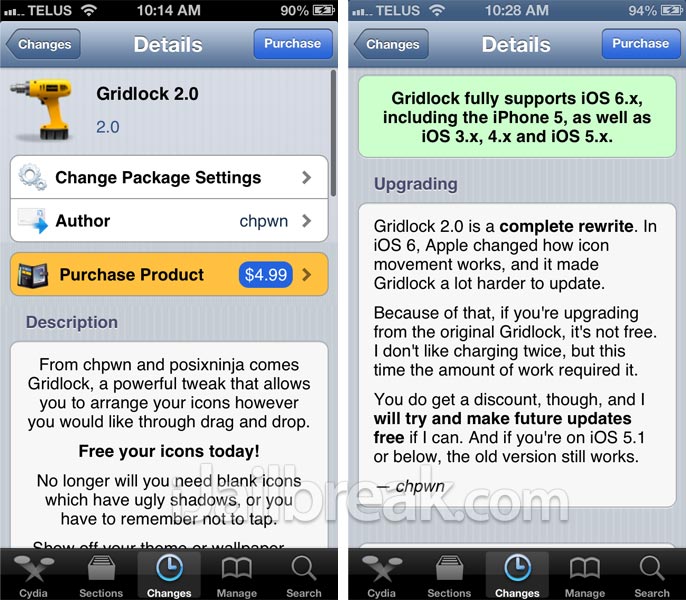 As such, existing owners will have to pay $1.99 for the tweak, and those who will be purchasing Gridlock 2.0 fresh will be paying $4.99. This may seem like a lot for a tweak, but Gridlock 2.0 is definitely worth the money. And considering it was developed by both Chpwn and P0sixninja you know it will be a quality tweak.
Will you be purchasing Gridlock 2.0 or is the price too much for you? Drop us a line in the comments section.