Last year a premium tweak was released called Grafiti that allowed you to send drawings to friends through the Messages app. Grafiti essentially acted as another keyboard that could be accessed by tapping and holding the Globe icon (just like how you access the Emoji keyboard).
In case you didn't want to spend the $0.99 Grafiti costs, then you will be glad to know that a new tweak was released into Cydia recently called Doodle Message. Doodle Message is a free Cydia tweak that allows you to doodle and then send that doodle to a friend. Unlike Grafiti that was essentially another keyboard, Doodle Message can be activated when you try to insert media into a message. Upon doing this you will see a new option to "Doodle", which will bring you to a fullscreen canvas to draw on.
From the fullscreen canvas you can change the color of the drawing tool and also change the width of it from 5 to 50. Although there aren't any RGB sliders, there is a good selection of colors that should keep most people happy. There is also the option to import a photo already in your camera roll and even the ability to take one on the fly.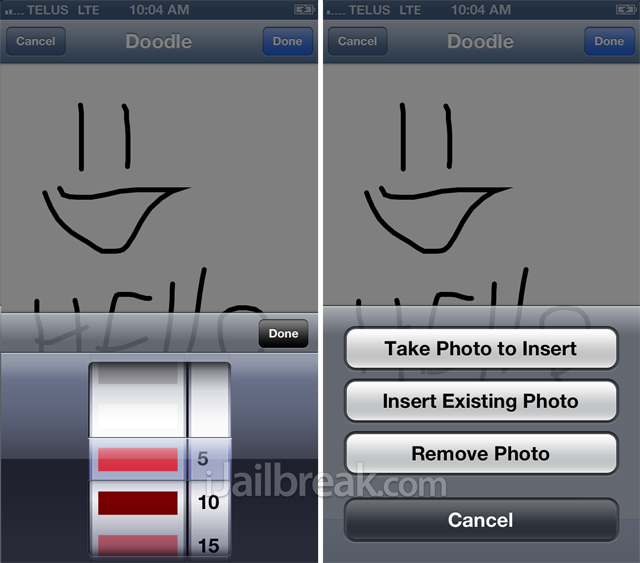 Among other things there are redo and undo buttons which are handy, as well as the ability to trash your current drawing and start again. Once you've completed your drawing, hit done and your drawing will be embedded into your message waiting for you to add text or send it. It works just like how you normally send picture messages in the Messages app.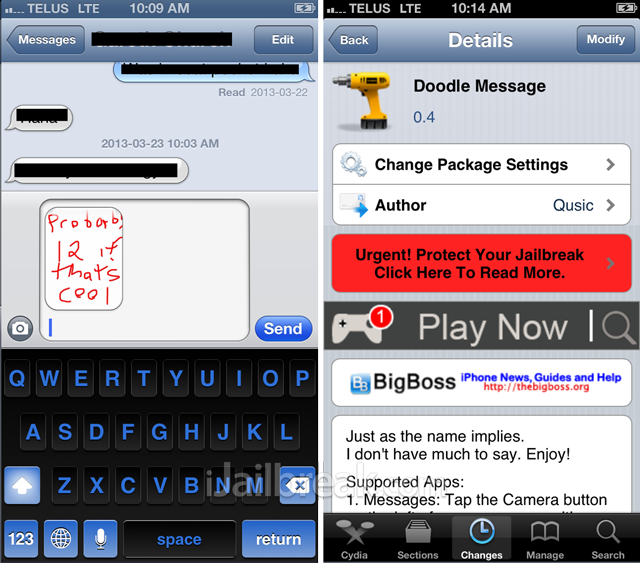 Doodle Message works with the stock Messages app, BiteSMS and also WhatsApp at the time of writing this article. Support with other messaging clients may come in the future. If you are interested in the Doodle Message Cydia tweak you can find it in the BigBoss repo for free. Although Grafiti certainly feels like a more polished tweak, Doodle Message is off to a great start, and considering it is free you have nothing to lose.
Let us know what you think of Doodle Message in the comments section below.