Here's a new Cydia tweak for jailbroken iOS devices, that lets you compose and send drawings using the stock Messages app. You could always send image files, but now you can also send custom drawn images to your friends. A new Whiteboard is added to the keyboard, which can be used to draw whatever you like.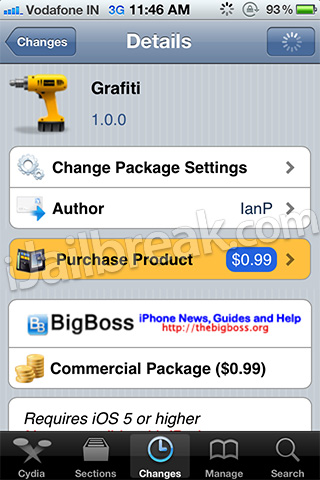 Grafiti, as the tweak is called, is very useful and one of a kind. There aren't many tweaks in Cydia that are original and actually worth the money, but this one certainly is. As previously mentioned, it lets you draw images inside the iOS Messages app and then turns it in to an image and sends it across to your friend. To enable Grafiti, you'll have to choose a secondary keyboard such as Emoji. Now, you'll see Grafiti when you tap and hold the Globe icon on the keyboard. It has basic options such as undo, redo, clear, change size of the brush, select color from RGB palette and lets you easily draw with your finger or a stylus.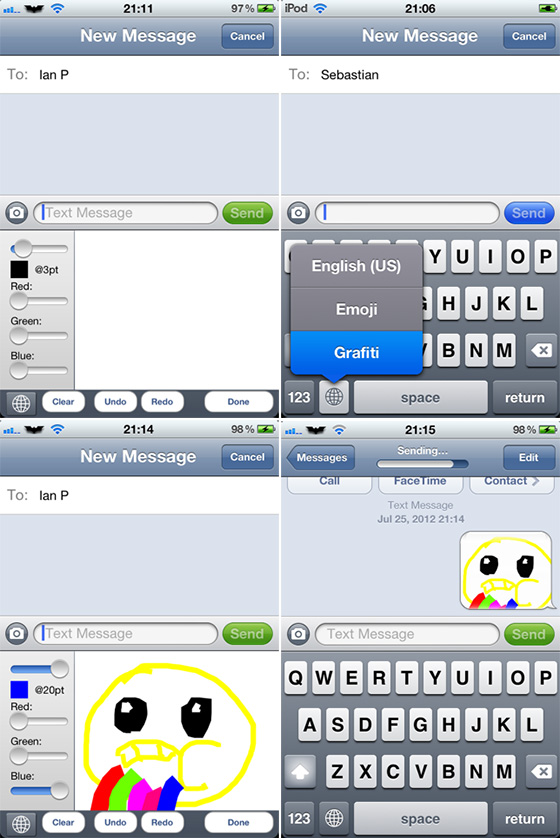 Once you've completed your drawing, hit send and your recipient gets a picture message. It works just like how you normally send picture messages in the Messages app, you can also add text. You can send drawings via MMS or iMessage and even save the picture to your Photos album. Currently this tweak is only compatible with the stock Messages app and works seamlessly with it. It does not work on the iPad; it only supports the iPhone and the iPod Touch.
Grafiti is available in the BigBoss repo for $0.99 and is definitely worth the price. People who enjoy drawing will enjoy this tweak. I hope the developer adds iPad compatibility soon because you have much more room to draw.  Try it out and let us know what you think of it in the comments.