Have you noticed that since updating to the iOS 5.0.1 firmware and Jailbreaking Untethered using RedSn0w 0.9.10b2, Corona 5.0.1 Untether or PwnageTool 5.0.1 that Cydia is sluggish, timing out or not refreshing? Ever since I Jailbroke my iPhone 4 running the iOS 5.0.1 firmware untethered Cydia became extremely slow. Cydia package source pages would not load and at some points I could not even refresh my sources. If you are experiencing these errors or any of the following:
Community Sources (BigBoss, ModMyi etc.) are not working
I cannot refresh Cydia
Cydia is sluggish, slow and unresponsive
I cannot download Cydia tweaks
This is simply because the servers powering these essential Jailbreak services like the BigBoss repo, ModMyi repo and even Cydia are under a lot of demand. This is because the first iOS 5 firmware generation Untethered Jailbreak was released and thousands upon thousands of people are trying to use Cydia at the same time. This puts very high strain on Cydia's servers, Cydia tweak/theme's servers and all of which is causing Cydia to become slow and unresponsive. Thus, it is not a problem related to Cydia's software, it is simply a problem of too many people accessing Cydia at the same time.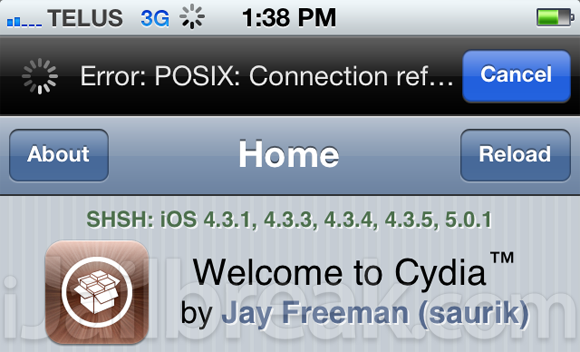 If Cydia itself was the reason behind the sluggishness I am sure we would have heard from Saurik on the issue. While it is a possibility that these Cydia problems people have been experiencing are due to conflicts with Pod2G's Untethered exploit, I think it is safe to say this is more of an issue of too many people trying access Cydia at once.
Please let us know if you have any questions or thoughts in the comments section below…