Is the iOS 7 stock Music app enough for you?
Well I personally don't think so and many people will agree that the stock Music app on iOS 7 needs some 'spices' to fulfill what we need.
Here are the best music tweaks worth downloading if you use the stock Music app a lot: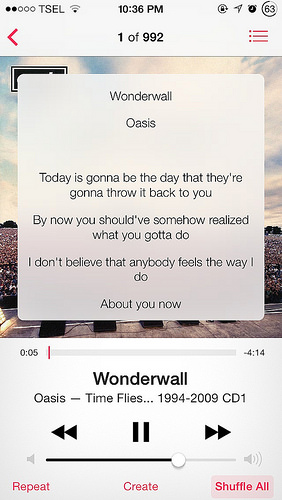 Lyricalizer surely has something to do with lyrics by its name.
Lyricalizer fetches and stores lyrics on the device when a song is played and an internet connection is present because adding lyrics to every song one-by-one is a pain.
It searches on several lyrics websites and streams it into the device and stores it so the next time you need the lyrics, it will be right there waiting.
It is compatible with an iPhone, an iPad or an iPod Touch running iOS 5,6 or 7 and it gets better in which it works with Spotify too.
Lyricalizer vailable on BigBoss repo for $1.29.
MiniPlayer by Mpow and Surenix brings the iTunes 11 Mini Player experience to iOS 7.
With the sleek flat white and black (can be configured on settings) it doesn't only acts like a mini music player but it has the ability to queue songs on the go and search for the entire music collection of yours.
With Activator, you can control when to hide or show MiniPlayer with a gesture and moreover, you can move it anywhere on the screen when it is enabled.
MiniPlayer is available on BigBoss repo for $1.99.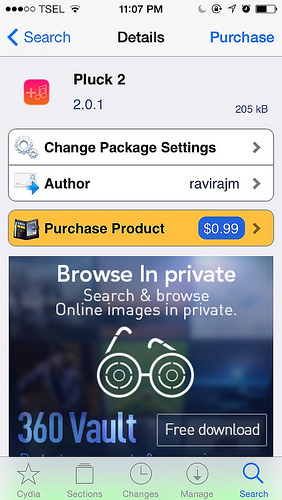 Pluck 2 adds a small icon on the bottom left corner of your lockscreen and to the control center.
The function of the button is to open the Playlists without unlocking needed. Now you don't have to deal with passcode and just choose your song and play it!
Pluck 2 is available on BigBoss repo for $0.99
So what do you think about the tweaks above? Are they enough to cover up the missing features of iOS 7 stock Music app? Tell us in the comments.