Both MiniPlayer 3.0 and CyDelete7 are two popular Cydia tweaks which have recently been updated for compatibility with iOS 7.
For those of you who haven't heard of the MiniPlayer Cydia tweak before it essentially brings the mini iTunes 11 widget to your iOS Device. This music widget hovers over apps, homescreen, the lockscreen etc. giving you quick access to music controls when you need it most.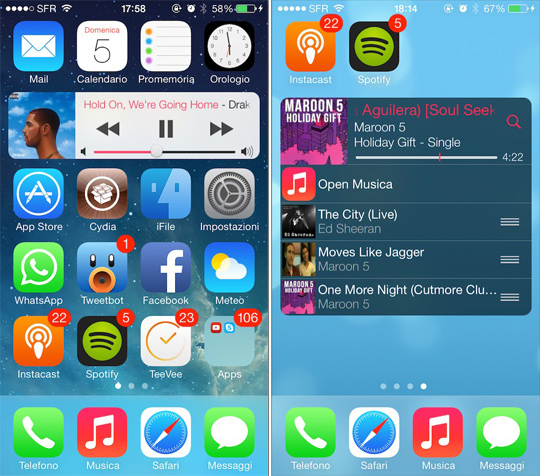 The widget displays album artwork, info on the song currently playing and playback controls. It can be hid by swiping the widget to the left or to the right and you can also set an activator command to show/hide to widget anytime.
The tweak has recently been updated with not only iOS 7 compatibility but with ARM64 compatibility s well. Here are some of the new features that can be found in version 3.0:
Completely new UI and UX for iOS 7
Speed optimization
Animation when the Player is hidden/displayed
Added two Activator listeners to hide or show. Use it with the new activator features to make more complex options to show and hide MiniPlayer (example: hide when an app is opened)
New Repeat, Share and Shuffle view with tap and hold on song and artist
New Play Next feature! (add songs to queue by a simple tap and hold when in search view)
New Play Next manage view! (tap Album Art to reveal new view)
Drag your songs in queue to edit your Play Next list
Search for full albums, Rdio and Podcast library
It also adds support for iTunes Radio
MiniPlayer 3.0 is available for $1.99 on Cydia via the BigBoss repo. If you've purchased MiniPlayer 2.0, then you can install it for free from Cydia.
CyDelete is of course a classic tweak that brings the ability to delete applications downloaded from Cydia in the same fashion you download any other app from the App Store. By default this functionality doesn't exist with Cydia packages, but CyDelete changes this for good.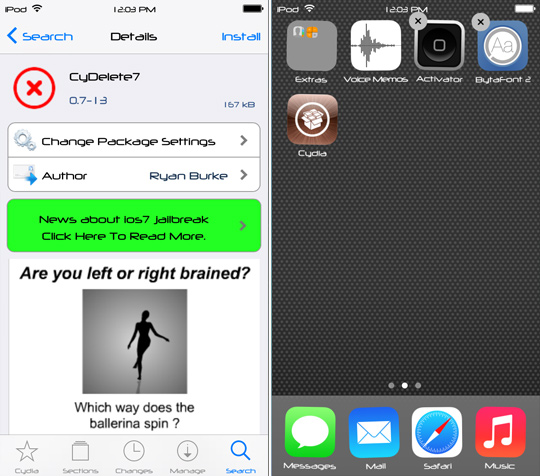 Of course any tweaks or apps without icons on the homescreen will have to be deleted just like any other tweak, but in the case of 3rd party apps like BytaFont 2 or iFile they can be removed by simply entering wiggle mode and tapping the "x" icon.
CyDelete7 is a free download in the BigBoss repo.