Earlier today we told you that UltraSn0w 1.2.8 was released by the iPhone Dev-Team and with its release comes compatibility with the iOS 6 firmware generation. This means if you have been holding off upgrading to iOS 6 because of UltraSn0w compatibility woes, it is now safe to do so. You will simply need to use Sn0wbreeze for Windows or RedSn0w, which is compatible with Windows and Mac OS X to preserve your baseband when updating to iOS 6.1. Once you are Jailbroken on iOS 6.1 with your preserve baseband that is UltraSn0w compatible you can proceed with following this brief tutorial.
UltraSn0w 1.2.8 Supported iPhone Basebands 
iPhone 4 on baseband 01.59.00
iPhone 3G/3GS basebands 04.26.08, 05.11.07, 05.12.01, 05.13.04, and 06.15.00
*In order to see if you have one of the supported basebands on your iPhone 4 or iPhone 3GS you will need to go into the Settings.app > General > About and look for the Modem Firmware field.
Unlock iPhone Running iOS 6.x With UltraSn0w 1.2.8
Step 1: As mentioned previously you must already be running iOS 6.1 on your iPhone 4 or iPhone 3GS, and you must also be Jailbroken on iOS 6.1. If your iPhone is not Jailbroken please click here.
Step 2: After your iPhone is running the iOS 6.1 firmware and is Jailbroken you will need to simply launch Cydia from your SpringBoard.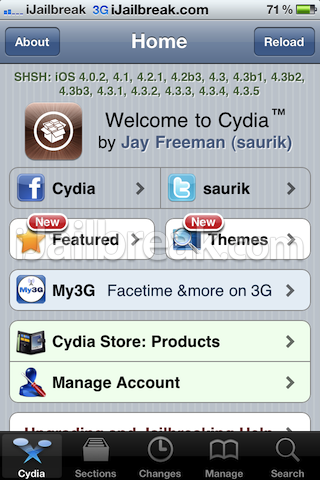 Step 3: Once Cydia is up and running you will need to go into the Sources page. To go into the Sources page tap Manage followed by Sources.
Step 4: Typically, the UltraSn0w repo is included with Cydia. If not, tap the Edit button followed by the Add button and you will be prompted to add a URL source. Type:
http://repo666.ultrasn0w.com
Followed by tapping the Add Source button.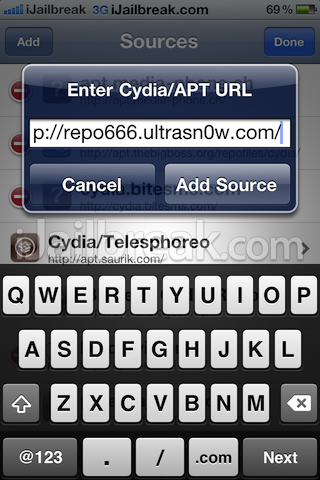 Step 5: Cydia will automatically refresh and update sources.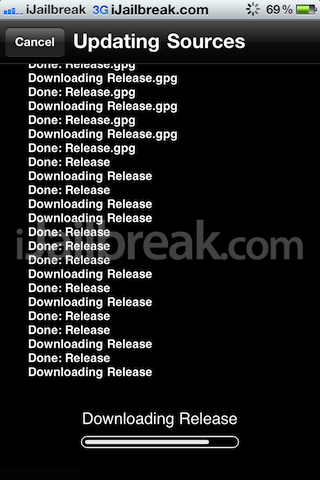 Step 6: After Cydia is done refreshing sources. Tap the Search tab on the bottom tab bar and search for UltraSn0w. Once UltraSn0w appears, tap on it and you should see version 1.2.8. Read through the description and tap the install button to install UltraSn0w 1.2.8 to your iPhone 4 or iPhone 3GS running the iOS 6.1 firmware.
Note: In case you are not familiar with UltraSn0w, it is a software unlock for your iPhone meaning you can use your iPhone with any carrier by simply inserting the SIM card.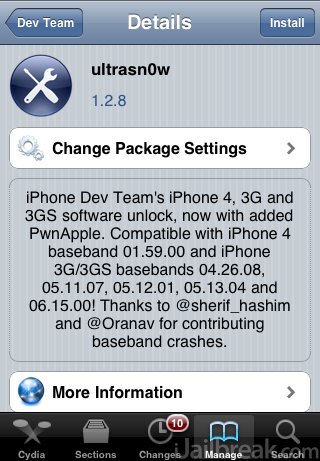 Step 7: When UltraSn0w is installed you must restart your iPhone, plug in your unofficial SIM card and wait for your iPhone to connect to your network.
That is it! Your iPhone 4 or iPhone 3GS should once again be unlocked, but this time on the iOS 6.1 firmware. If you have any further questions or thoughts drop us a line in the comments section.