If you have ever wanted an easy way to change the color and transparency of the bulletin list on the lockscreen of your iPhone, iPod Touch or iPad then the ColorfulBulletins Cydia tweak is for you.
For those of you who don't understand what I am talking about, the bulletin list appears on the lockscreen when you have more than 1 missed notification. You can select from a list of pre-defined colors and also easily create custom color codes as well. The available colors include Custom, Black – Default, Dark Gray, Light Gray, Gray, White, Red, Green, Blue, Cyan, Yellow Magenta, Oranage, Purple and Brown. You are even able to change the transparency from 0% (fully transparent) to 100% (solid) in 10% intervals.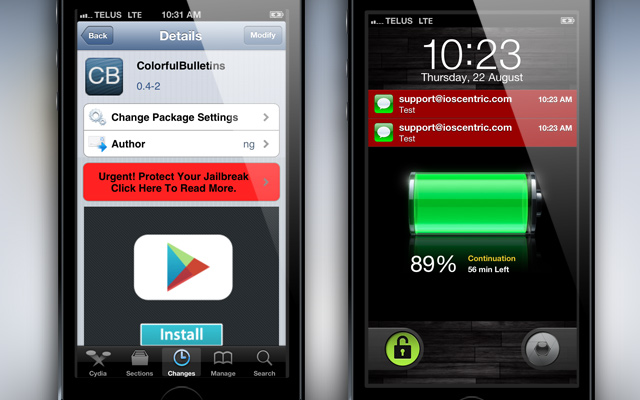 There is even WinterBoard integration, and single notification theming support as iOS doesn't switch to the bulletin notification view until there is more than one notification present.
If you are interested in customizing the color scheme of the bulletin list on your iOS device then you can find the ColorfulBulletins Cydia tweak in the BigBoss repo for free. Let us know what you think of it in the comments section below.