Just days ago, we wrote about the SpeakEvents Cydia tweak that reads out your Email, SMS and iMessage notifications. That could be useful for times when you don't have access to your iDevice, like when you're riding a motorbike, driving or are too damn lazy. Here's another tweak that is similar, yet different in so many ways.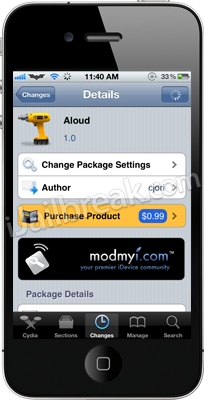 Aloud is a new Cydia tweak that adds voice to each and every notification on your iOS device and lets you choose from over 30 different languages for the alerts. Suppose you want to listen to your alerts in French. You can do that with this tweak, and it's all so simple and nice. Choose the apps whose notifications you want to be read aloud, adjust the volume, adjust the rate of speech and much more. The best part about this tweak is that it works with all the apps installed on your iDevice.
Here's the complete list of all the features of Aloud Cydia tweak:
Aloud speaks a lot of languages – over 30 of them!
Customize Aloud's voice with a custom rate and a custom volume!
Suppress the original notification sounds
Choose what apps you don't want Aloud to speak for
Tons of rules to set so Aloud won't interrupt:

Device state (un/locked or both)
Disrespect the mute switch
Speak only with headphones
Only when charging
Don't speak in-call
Don't speak on certain days
Don't speak on certain hours
Make Activator actions to listen to this set of rules (or not)

Custom speaking formats:

Speak only the message, title or both!
Dynamic format – automatically configured for messages, emails and Music with MusicBanners!

Activator Actions! Including:

Repeat the last notification
Stop speaking
System state (WiFi, battery, charging)
Date and time

Works great with Hands-Free Control and tell it to "Read" your last notification!
There you go! Pretty awesome list of features right? Aloud tweak is currently available in the ModMyi repo for $0.99, which is a limited period price. If you wanted a tweak that read out all your notifications, then you should give this a shot. Try it out and tell us what you think of it in the comments.