Wouldn't it be great if your iPhone, iPod Touch or iPad could speak? Well, if you answered yes to this question then you should check out the SpeakEvents Cydia tweak, which will bring voice alerts to your iOS device. This means you will no longer have to manually check who is writing you a message via SMS, iMessage or email.
The main features of SpeakEvents can be found in the quoted area below…
works on every device with iOS 5+ and has configurable options in the Settings.app
automatic language detection with support for multiple languages (en, de, pl, cz, es, ru, more to come)
select apps for which to speak notifications
allowed time range (to avoid waking you up)
does not speak in silent mode (won't disturb you)
enable/disable reading of message bodies
Uses the phonetic contact names or nicknames from Contacts.app
Although you can download this Cydia tweak for FREE you will need to purchase a license for a price of $1.99 AUD, which is approximately the same price in US dollars.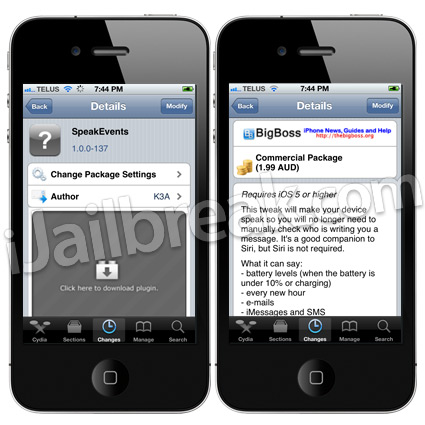 Have you had a chance to try the SpeakEvents Cydia tweak out? Let us know what you thought about it in the comments section below…