In the Notification Center on OS X you may or may not have noticed that there is a small icon in the very bottom right that allows you to manage the Notification Center. On iOS, however, this little shortcut is missing and it seems strange that Apple wouldn't keep the experience consistent across both operating systems.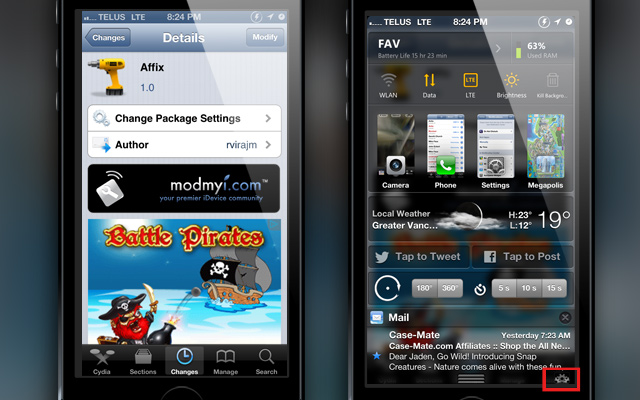 This is where the newly released Affix Cydia tweak comes into play. The Affix Cydia tweak brings this shortcut to the Notification Center on iOS and it is more useful than you may think. It was developed by rvirajm who is the bright mind behind many other useful tweaks like TorchNC and Addial.
Once the tweak has been installed you simply invoke the Notification Center and you will notice a new gear icon shown in the bottom right hand corner of the screen. Upon tapping this button you will be re-directed to the Settings for the Notification Center in the Settings app.
If you have BiteSMS installed then you will want to keep in mind that Affix has conflicts with the quick compose button. This means you will either have to disable this quick compose widget from BiteSMS or not install the tweak and hope rvirajm corrects the compatibility issue.
Those interested in the Affix Cydia tweak can find it in the ModMyi repo for free. Let us know what you think of the tweak in the comments section below.