BiteSMS continues to be one of the reasons why many people Jailbreak, and a lot of people are hoping Apple implements BiteSMS-like functionality in iOS 7. BiteSMS brings about the ability to reply to SMS/iMessages from anywhere within iOS without leaving the application you are currently in. BiteSMS also includes a ton of other features like Quick Compose, Scheduled Messages, Auto-Forward, Auto-Retry, Passcode Lock, Privacy, Contact Pics, Easy Pick Smileys, Templates, Signatures and much more!
If there is one thing you could complain about with BiteSMS, however, it would be performance. BiteSMS is not known to be the most stable or reliable Cydia tweak, despite its frequent updates.
Version 7.5 of BiteSMS, released today, could change all of this though! In the changelog for BiteSMS v7.5 its clear this update was focused on performance and it was stated in the changelog that BiteSMS is now 100% the same speed as the native Messages app.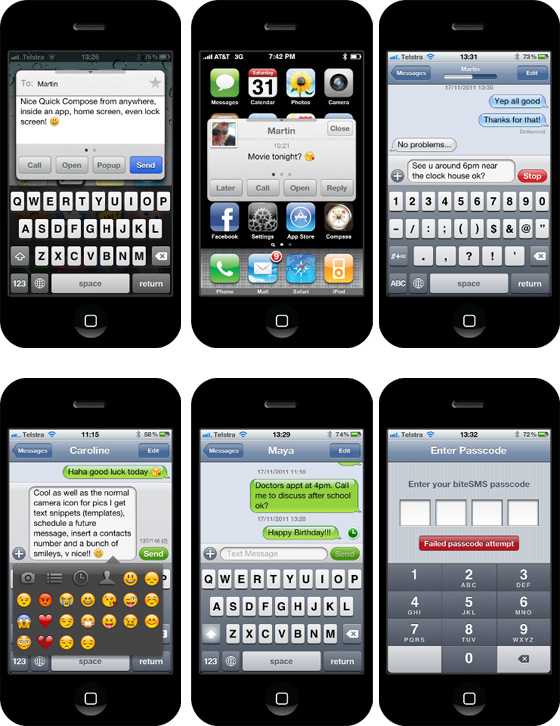 Take a look at the changelog for yourself below…
Big performance increase when starting up biteSMS. It's now 100% the same speed as the native Messages app.
Fixed all issues associated with old messages appearing in Quick Reply.
Fixed all issues associated with messages not always appearing in the biteSMS application.
Fixed all scheduling issues.
Fixed iMessage multi-media Apple bug.
Improved LockInfo compatibility.
QC and QR now display the Delivered or Read status of the last iMessage in the previous messages pull down.
Inside biteSMS you can now pull down the keyboard from the blue title bar when you're typing a long message and cannot see the bubbles anymore.
Fixed up a bunch of crash reports and all known reported bugs.
This update makes BiteSMS the fastest and most stable it has ever been! If you haven't took the plunge and purchased BiteSMS for yourself you may want to. There is currently a 7-day free trial and if you like it then a license will cost you $7.99 (even if you don't want to pay for a license you just have to put up with small banner ads after the 7-day trial). For existing BiteSMS users who already have a license though, this update is of course free.
Let us know what you think of BiteSMS v7.5 in the comments section.