When Siri was first released for the iPhone 4S a majority of people assumed that it would be in-turn released for older generation iOS devices in a firmware update. Unfortunately however, it looks like this is not going to be the case as the iPhone 4S contains dedicated noise cancellation hardware to make Siri work as flawlessly as possible. Siri just wouldn't work the same way on older generation iOS devices, and as Apple is all about perfection, there is really no motive for them to bring Siri support to older generation iOS devices.
Regardless of the fact that Apple will not be bringing Siri to older generation iOS devices, this has not stopped developers from trying to copy Siri's functionality. Thus, in this article from iJailbreak.com we will be covering the top Siri alternatives for your non-Jailbroken and Jailbroken iPhone, iPod Touch or iPad.
Top Siri Alternatives
Alternative #1: Vlingo (free)
Vlingo is a FREE App Store Siri clone for your older generation iPhone, iPod Touch or iPad that can send SMS messages, emails, make phone calls and find places of interest near your current location. Vlingo also goes beyond the default functionality of Siri by adding social media support for Facebook and Twitter. Considering Vlingo is a free application it is extremely powerful and I would recommend it to anyone who is looking for a robust Siri alternative.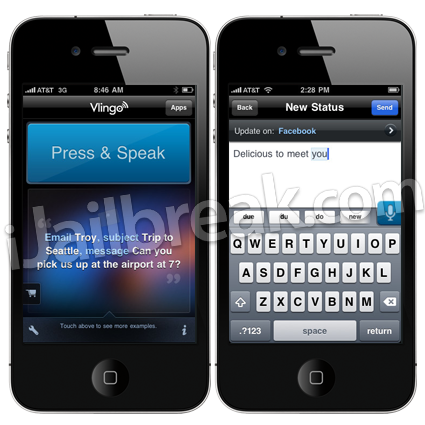 –> More Information
Alternative #2: Evi (paid)
Evi is a Siri clone that takes a slightly different approach to answering the questions you ask it. In fact, one could say that Evi is more like a voice optimized version of Google web search. Unlike the previous Siri alternative we told you about dubbed Vlingo, Evi specializes in finding answers to the questions you ask it (even complicated ones) and will not send text messages, make phone calls etc. Evi uses the same Nuance voice recognition technology as Siri does, which makes Evi extremely reliable in understanding your commands. For those interested, Evi can be found on the App Store for a price of $0.99.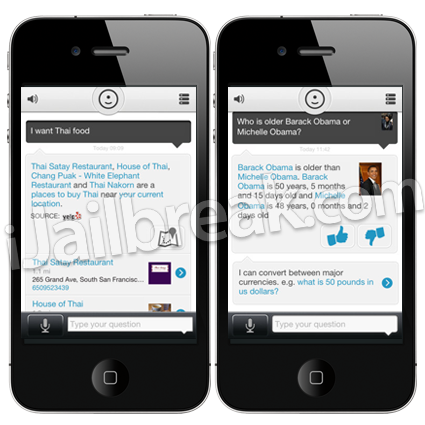 –> More Information
Alternative #3: SpeakToIt Assistant (paid)
The SpeakToIt Assistant App Store Siri clone allows you to have access to a Siri clone that is customizable and fun. As with SpeakToIt Assistant you can customize the style of your virtual assistant. Like most Siri clones, with SpeakToIt Assistant you can update your social media accounts, find places of interest, look up local weather reports and more by using everyday language. Although some people have reported that SpeakToIt Assistant features bad voice recognition technology, the app is constantly being updated and is sure to only get better.
–> More Information
Alternative #4: SARA (free)
If you have a Jailbroken iOS device you can look forward to SARA! SARA is a Siri clone that extends the default functionality of Siri by a ten-fold. You can, for example, find places anywhere around the world, control your computer, send messages, translate words, update social media accounts like Facebook/Twitter and so much more all with the power of your voice. Though SARA is a powerful Siri alternative some say it lacks the reliability and professional nature other Siri alternatives feature.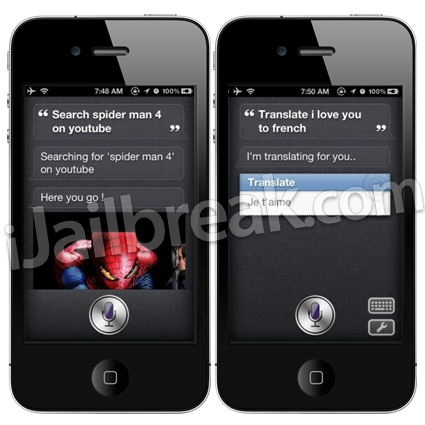 Alternative #5: ESRA (free)
ESRA, standing for Experimental Speech Response Application, is a work in progress port of Siri to older iOS devices. Though I would say ESRA is even more unreliable than SARA, the developers are constantly working to improve ESRA and add new features. With ESRA you can Google words or phrases, send text messages, ask "it" questions and much more!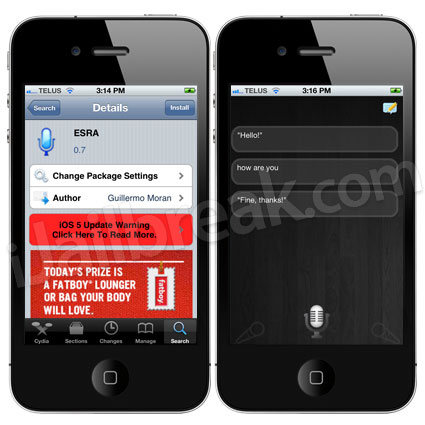 Jailbreak Tip: If your iPhone, iPod Touch or iPad is Jailbroken and you are trying one of these Siri alternatives and want to make it feel more natively integrated into your iOS device. Then you can download the Activator Cydia tweak and configure one of these Siri alternatives to launch when you hold down the home button. This will more closely mimic the real thing and make it so you do not have to constantly launch the app from your SpringBoard (homescreen).
What do you think of these Siri alternatives? Which one is your favourite? Share your responses in the comments section below and let us know if we missed one worth mentioning.