With Apple selling over 2 million iPhone 5s during the first 24 hours I have no doubt that a lot of you reading iJailbreak probably are expecting one to show up on your doorstep September 21st. In some cases it has been reported that the iPhone 5 is already being shipped to certain areas in the world, and as such if you would like to check if Apple has shipped your iPhone 5 you can follow the handy instructions below.
Check iPhone 5 Shipping Status From Apple
Step 1) – Make sure you are logged into your Apple account that you used to purchase your iPhone 5. Then you will need to head on over to Apple's account page. This can be done by clicking here.
Step 2) – Look for the Orders section and then click the Track a shipment link as shown in the image below.
Step 3) – From this page you should see information about your iPhone 5 that will tell you whether it has shipped or not.
Find iPhone 5 Tracking Number From UPS or Fedex
Step 1) – For those of you who were not given proper shipping information you may want to try either the UPS or Fedex website (the two companies Apple uses to ship their products). This is because what you are able to do is use a feature called track by reference. With track by reference often times you can find the whereabouts of your iPhone 5 before Apple actually updates their website.
Step 2) – Visit either the Fedex website or UPS website. For those of you who visited the Fedex website you will need to enter a reference (by default this is the phone number associated with your Apple account), set an approximate shipping date, select a country destination and enter a destination postal code.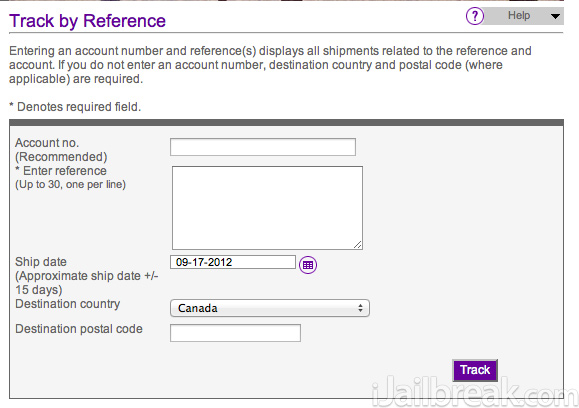 The same process applies to UPS as well. In the left hand navigation bar you will just simply need to select Track by Reference.  Leave the shipment type as Package, enter a shipment reference, set a shipment date range, skip shipper account, select a destination country and enter in a destination postal code.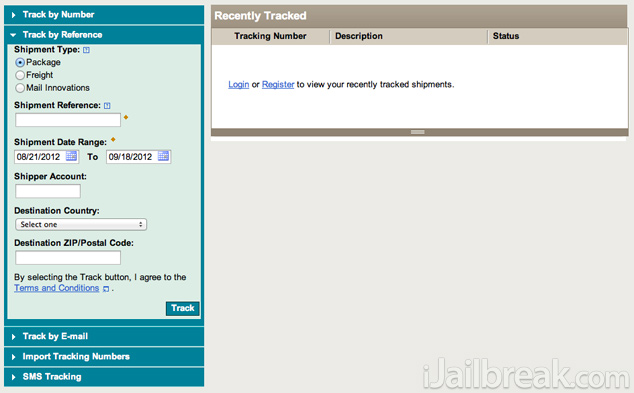 Step 3) – If all the information was entered correctly then you should be directed to a page with information on the whereabouts of your iPhone 5. For those of you who did not get success try changing your reference number (ie: iPhone phone number, billing phone number or Apple order ID). Finally, if you used UPS switch to Fedex or vice-versa.
Hopefully this tutorial allowed you to figure out the whereabouts of your iPhone 5. Don't fret if you did not get success however, it simply means your iPhone has not been packaged for shipment yet. You will need to repeat this process in 24-48 hours. Please leave any questions or further thoughts in the comments section below.