Your warranty is something that should never be underestimated, especially when purchasing an Apple product. Often times repairs run into the hundreds of dollars mark very quickly, and if you aren't prepared you will end up having to fork over a lot of money. For those of you that want a quick way to check whether you have warranty left on your iPhone, iPod Touch, iPad, Mac or any other Apple product for that matter, you can do so by taking advantage of an automated service Apple offers.
Knowing how long you have left with your warranty / AppleCare Protection Plan will allow you to follow through with any necessary action if you are getting close to the cutoff date or allow you to extend your coverage if possible. Follow the instructions below and learn how to easily check the status of your Apple product's warranty.
Step 1) – Navigate to the following URL shown below.
selfsolve.apple.com/agreementWarrantyDynamic.do
Step 2) – From here you will need to enter your devices serial number. Unfortunately the serial number is located on different places for all products, but it is generally shown somewhere on the back of your device. If you need help locating your device's serial number click here. Once you find your device's serial number enter it in the input field and press the Continue button.

Step 3) – When you press the Continue button you will either need to validate your purchase date, by following the on-screen instructions, or you will be redirected to a page with a bunch of useful information. This includes whether or not you are still covered with telephone technical support and repairs and service coverage, as well as whether you can extend your AppleCare coverage.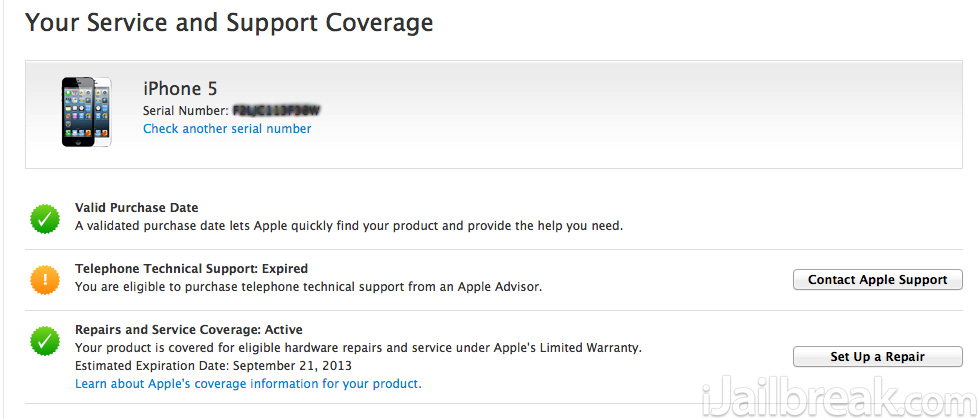 Although this is a fairly simple thing to do, a lot of people neglect to check their warranty status. Hopefully this little tip was useful. Let us know if you have any further questions or thoughts in the comments section below.