A couple of days ago we told you about an application that made its way into the App Store called Pokemon Yellow, which actually turned out to be a scam. This is definitely not the first time an application of this nature has made its way into the App Store and furthermore it is without a doubt there are applications in the App Store that are down-right disappointing and falsely marketed. If you have ever asked yourself, "how can I get my money from the App Store" then you will be glad to know iJailbreak.com has an answer for you.
Yes, there is a way to get your money back for an application purchased from the Apple App Store, as pointed out by Gizmodo, but the process has been known to be lengthy from the time you make your claim to the time you actually get your refund. Another thing to keep in mind is that in Apple's iTunes policy it is stated that all sales are final. This means that the only way you are going to get your money back is if the application really is fake (a scam) or is falsely marketed. Lastly, keep in mind that the process we are about to show you is not for an application you bought, are now bored of, and want a refund.
How To Get An App Store Refund
Step 1) – Launch iTunes, login and then click the arrow next to your Apple ID. When you see a drop down menu you will need to select the Account option.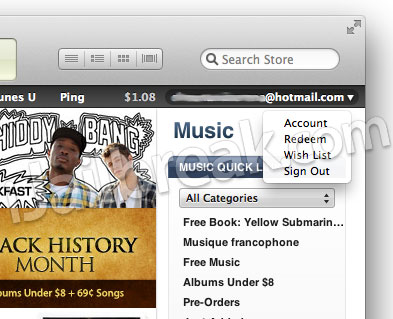 Step 2) – Now you should see a Purchase History section and a link that says See All, click this link now.

Step 3) – You will now see a list of all purchased products from iTunes. Find the application you would like a refund for and click the grey arrow next to it.

Step 4) – From this next screen you will need to click the Report A Problem button, and then the Report A Problem link next to the application you would like a refund for.
Step 5) – You are now on the most important step. You will need to select one of the six categories for your app complaint and then write a detailed reason (detailed being the key word here) on why you should be entitled to a refund. When you are done simply click the Submit button and wait for an Apple representative to get back to you.

That's it! If all goes well you should have a refund sitting in your iTunes account in the next few days (hopefully). Let us know if you have any further questions in the comments section below…