A couple of months ago we introduced you to a new browser called Nimbus. This browser is available through Cydia and is a light and efficient web browser that offers dramatic speed increases offer the stock mobile Safari browser. Why am I bringing this up again? Well, I have been keeping in touch with the developer of the Nimbus browser off-and-on and he recently released an application into the official App Store called Twook!
Twook is an all purpose social media manager that allows you to easily update your status, upload a picture or share a URL on popular social media sites like Facebook, Twitter, Tumbler etc. If you find yourself constantly going back and fourth between social media sites to update your status or upload an image you will instantly fall in love with Twook. Everything you could ever need is integrated into one application which will not only save you time it will allow you to share more than you could imagine.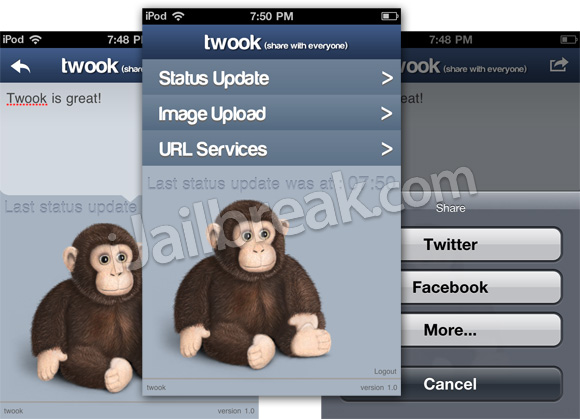 All-In-All Twook is a great application that I am actually going to continue to use. While there are Cydia tweaks that provide similar functionality Twook is a non-obtrusive way easily manage your social life; that both Jailbroken and Non-Jailbroken users can take advantage of. It gets even better, Twook is currently available for FREE through the App Store! This means anyone can take advantage of this very useful application.
You better hurry, however, Twook will not be a FREE application for much longer.
Download Twook from the AppStore Now!