If you are looking for a Safari alternative for your iPhone or iPod Touch you will be glad to know that a new browser was just released into Cydia called Nimbus! This new web browser is being introduced as the new standard for mobile browsing. Nimbus is a clean, light, and efficient web browser that is defined by its pure speed and efficiency when surfing through multiple layers of web content. Not only is this app a fast and efficient web browser, it comes with some cool feature such as Full Screen browsing which will take your web experience to a whole-another dimension.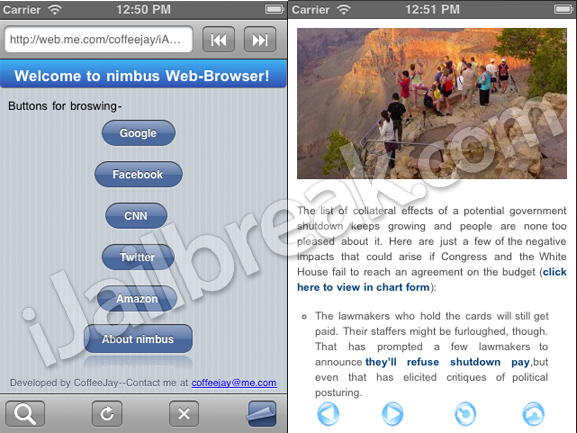 You can take a look at some more of Nimbus's features below…
Fast, efficient, & light browsing for optimal speeds when browsing the web. Web-memory is saved in web-objects to increase all functions. All operations are performed locally, without ever compromising overall speed of the browser.
Basic controls for browser include back, forward, refresh, and stop.
Clean, intuitive interface, with minimal user interferences.
Quick search tab to perform web searches.
Full Screen browsing also included! Simply press the 'Go Full' button, and enjoy 28% more browsing room!
Private Browsing, no history is cached, providing for no speed loss over time.
Custom Home Page featured for access to quick start browsing! Simply shake your device to return back home!
Pinch to zoom featured!
If you are interested in trying out the Nimbus you can do so by heading over to Cydia. If you act right now it is actually available free for a limited time! So what are you waiting for? Grab it from Cydia today before it is too late. Once you download Nimbus to your iPhone or iPod Touch let us know what you think in the comment section below.
Update #1: As reported by a lot of users Nimbus does have quite a few noticeable bugs that will need to be worked out.
Update #2: Nimbus Browser has been Updated [Fixes Numerous bugs]
A couple days ago we told you about a new mobile safari alternative called Nimbus. This light and efficient web browser offers dramatic speed increases offer the stock mobile safari browser and comes with some neat features like full screen browsing.  If you were one of the individuals that tried the web browser you probably also experienced quite a few bugs.
One of the developers of Nimbus actually sent me an email yesterday bringing to my attention that an update was going to be pushed that will fix many errors associated with the browser. These fixes include interface issues, minor speed improvements and even a new round icon. I suggest to all of you who have the browser or did have the browser installed that you to head on over to Cydia and either update or re-install the Nimbus browser.
Within the email that Nimbus's developer sent me he mentioned that it is going to be regularly updated with new features including auto rotate and perhaps a tabs feature. If you have not yet downloaded the browser I recommend you head on over to Cydia and download it now while it is still free.
Update #3: Nimbus Browser Updated To Version 3.0 And Now Open Source [Seeking Developers]
Recently the Nimbus browser was updated to version 3.0 and in this version it received a complete overhaul. Featuring a new GUI (graphical user interface), an addition of a tab system, and a revision to 'full screen' viewing window. The browser has come a long way since its initial release back in April, and I am excited to share with you that it is now the first open source iOS browser.
Jay, the developer of the browser, is thus initiating a call to iOS developers to begin work on what could be the most efficient and useful web browser available to mobile users. Jay commented in the email he sent me:
I received a huge request chain to make nimbus an open source project for the jailbreak community, and evolve it into a revolutionary browser for the mobile world. I have been recently contacting prominent devs around the jailbreak community like comex and others to join the initiative.
If you are a developer and would like to help out in the Nimbus project you can email Jay using the following email address: coffeejay@me.com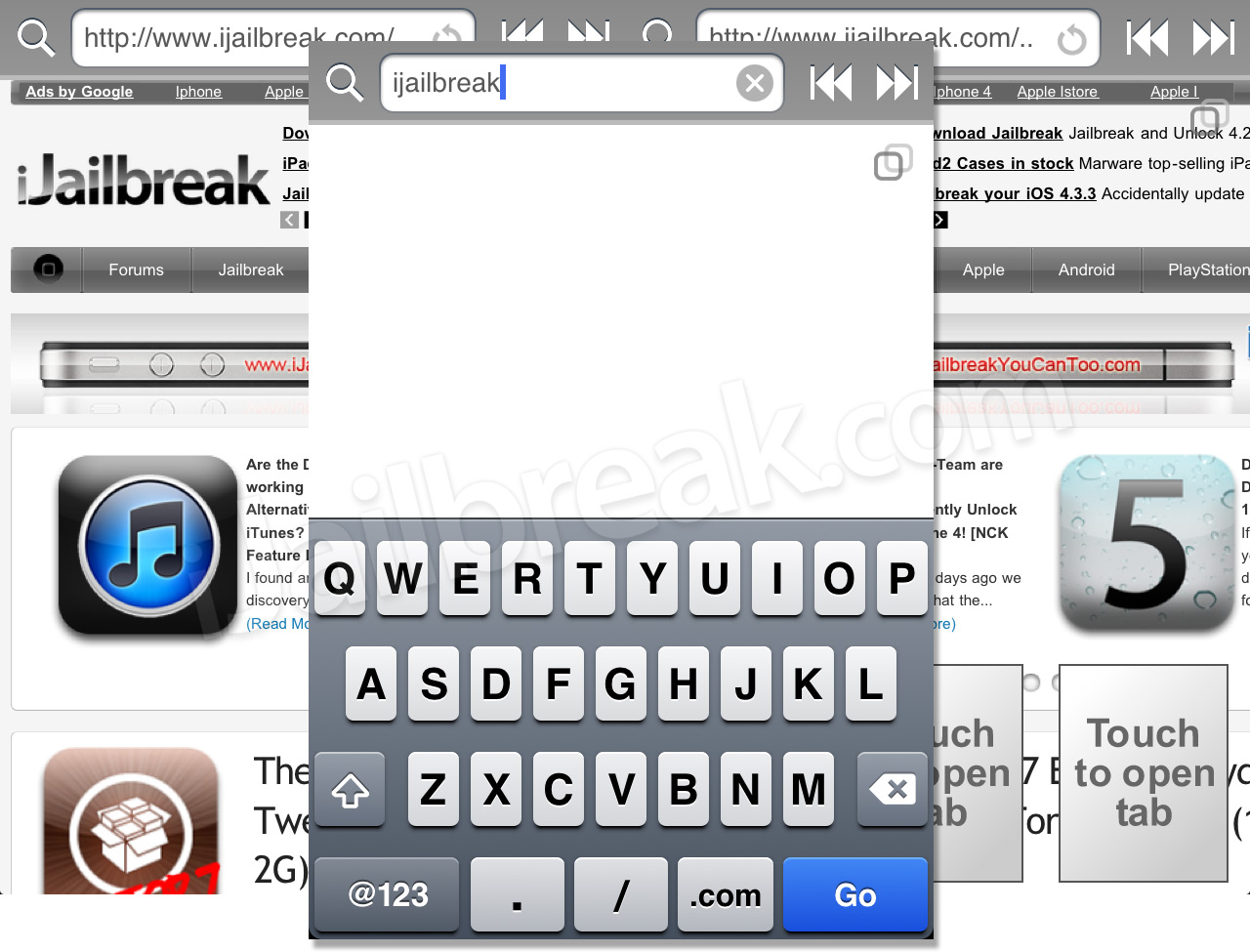 With the browser going open source, it should attract much talent to aid in the development of Nimbus and really make it the most efficient browser for the iOS platform. Personally I am a fan of the browser and if you haven't already, I would go ahead and try out the Nimbus browser which is currently available through Cydia.