If you have read what iFixit had to say about Apple's new iPhones or read Catherine Rampell's piece on Apple purposely making iPhones hard to repair so that you would have to buy a new one you may actually start to believe there is a reason Apple made the iPhone so hard to repair. In reality, however, the iPhone actually is very repairable… if you have the right tools that is.
Cult Of Mac was able to get their hands on training videos from a Genius that educates Apple staff on how to repair the iPhone 5s and iPhone 5c. As it turns out there was actually a big focus on ensuring that both new iPhone models were easy to repair.
There are 12 videos in total that provide detailed animations on how to repair the internal components of iPhones that includes the speaker, receiver, vibration motor, iSight camera module, battery, and sim ejector tool. In order to repair the iPhone with ease it requires 5 tools:

iPhone torque driver
Security bit
Nylon probe tool (black stick)
Universal Display Removal Fixture
Official iPhone 5c Repair Tray
When in possession of these tools it makes replacing the screen and even battery a breeze. The iPhone repair tray allows "Geniuses to quickly open the display and swap components without breaking the display flex cable. They even have an "iPhone Battery Fixture" that's basically a weighted roller that applies the perfect amount of pressure between a battery and its new adhesive tabs."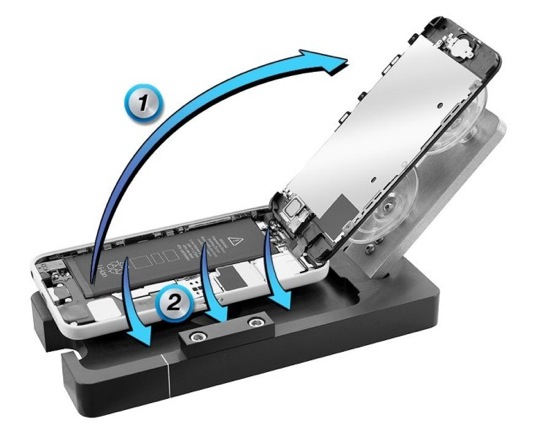 Cult Of Mac hasn't been able to get their hands directly on the videos at this time, but they said it may be a possibility in the future so we will keep you updated.
In a perfect world Apple would license these tools to other repair shops, but that would mean Apple would lose direct control over iPhone repairs so it is unlikely this will happen anytime soon. As such independent repair shops will be forced to come up with their own tools.